In Once in a Lifetime (Lucky Harbor #9) by Jill Shalvis, Engineer Ben McDaniels is back in Lucky Harbor, the place he calls home, after spending five years helping others rebuild in some of the most unstable parts of the world. Somehow Ben gets talked into helping out beautiful Aubrey Wellington with renovating her bookstore. He's always thought she was extremely sexy but also maybe a little too sassy for his taste. Spending time with Aubrey, though, proves to be an eye-opening experience and he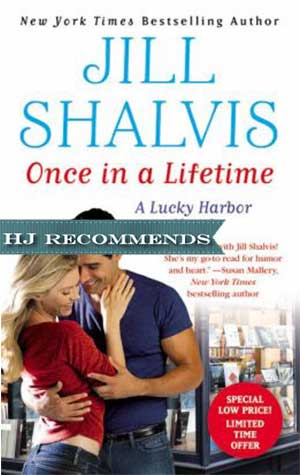 realizes there's a lot more to the former beauty contestant than he imagined. Ben has sworn off serious relationships after a tragic loss five years ago, but no matter how hard he tries to resist, Aubrey has worked her way under his skin. And he surprisingly likes it.
"If I stay tonight," he said, "I'm going to be in your bed in about five seconds. I'm going to make love to you until neither of us can walk."
The words brought a rush of heat. "Was that supposed to scare me off?" she asked.
Aubrey Wellington has the opportunity to begin living life as she wants to. She's inherited her aunt's bookstore, the Book & Bean, and she's determined to make a success out of reopening it. She's also decided to improve her karma by making up for her past, apologizing to those she's wronged. Aubrey is all set to tackle updating the interior of the building until Ben McDaniels walks in, tool belt slung low, sarcastic comments at the ready. It's obvious very quickly that they have incredible chemistry together but neither one of them are looking for a relationship. They vow to keep things casual, but Aubrey falls for Ben before she realizes it's happening. When her past transgressions come back to haunt her, will he be able to see beyond it, or will he use it as an excuse to cut and run?
"I'm serious," Ali said. "Whether you like it or not, you and Ben have something."
For the record, if this was true, she didn't like it. Not one bit.
I have been (not so patiently) waiting for Once in a Lifetime so I could finally find out more about enigmatic Ben and how he and Aubrey get together. I'm happy to say, this was well worth the wait!
Book nine in the Lucky Harbor series gives us Ben and Aubrey's HEA and of course glimpses into their past. I knew Ben was intense and a serious badass, but I didn't peg him for being a big old softy too. To see him protective of not only his lovely Aunt Dee, but also the local kids who were not being treated very well, was sweet in his own alpha male way. And I loved how thoughtful he was in regards to Aubrey as well. So he may have had a few moments where he went off the deep end. But he makes up for it in a big way which makes him alright in my book.
Aubrey really surprised me. She's known around town as being kind of distant and well, to quote the townspeople, bitchy. But getting to know her past and all that she's been through explained why she puts on a tough facade. It's a way of protecting herself. And Ben could see through all of it, right into her heart. They were so intense together, their passion ignited so quickly that it took them and everyone around them by surprise. I was glad Jill Shalvis graced us with her patented witty, flirty banter between Ben and Aubrey to lighten what could have been a rather serious story. There were a lot of deep emotional issues both characters had to deal with but it was broken up nicely with their fun and very sexy scenes together.
"Oh, my god. I have work." She poked him with a finger. "Stop distracting me with your mouth!"
"I could distract you with another body part instead. Say the word."
If you haven't visited Lucky Harbor yet, I highly recommend reading Once in a Lifetime. Each book can be read as a standalone, but I think you'll want to check out all the other romances in this wonderful series too.
~ Michele
Once in a Lifetime (Lucky Harbor, #9) by Jill Shalvis: In my (Heather) opinion, Jill Shalvis is the only person that can compete successfully with Lucille when it comes to matchmaking. Given the wide-variety of characters that reside in Lucky Harbor her ability to detect the perfect counterpart for each protagonist is unsurpassed. I'll admit I was slightly surprised that she matched Ben and Aubrey but, after reading Once in a Lifetime there is no doubt that she made the correct choice.
The dialogue is lip-smacking –
"…his mouth closing over hers. Soft, then sure and demanding, and the hunger consumed her, hot and terrifying."
This is a wonderful story about owning your mistakes, making amends, and gaining forgiveness. One of my favorite aspects of the Lucky Harbor series is resilient relationships. The author builds in-depth supporting characters that are known for rally around the underdog.
Up next is, It's in His Kiss, which features Ben's running partner Sam Brody.
~ Heather
Book Info:

Published February 11th 2014 by Grand Central Publishing | Series: Lucky Harbor #9
SOMETIMES WRONG IS OH-SO-RIGHT
After a wrenching loss, Ben McDaniels tried to escape his grief by working in dangerous, war-torn places like Africa and the Middle East. Now he's back in his hometown and face-to-face with Aubrey Wellington, the hot-as-hell woman who is trouble with a capital T. Family and friends insist she's not the one to ease his pain, but Aubrey sparks an intense desire that gives Ben hope for the future.
Determined to right the wrongs of her past, Aubrey is working hard to make amends. But by far, the toughest challenge to her plan is sexy, brooding Ben …even though he has absolutely no idea what she's done…
Can this unlikely couple defy the odds and win over the little town of Lucky Harbor?