GIVEAWAY: Box-O-Books!
Win a Box-O-Books full of HEA's & Swag
And the Winner is Heather Coulter
As a Thank You for being an active & involved member of the HJ Community I am giving away a Box-O-Books & Swag to one lucky HJ subscriber…
Here's what's in the box…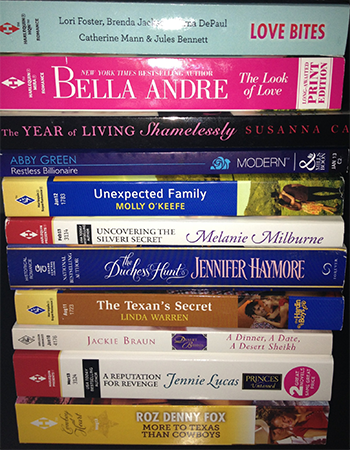 The Year of Living Shamelessly by Susanna Carr (signed)
Love Bites by Lori Foster (signed), Brenda Jackson, Virna DePaul, Catherine Mann, Jules Bennett
The Look of Love by Bella Andre
Restless Billionaire by Abby Green (signed)
Uncovering The Silveri Secret by Melanie Milburne (signed)
Dealing Her Final Card + The Greek Billionaire's Baby Revenge by Jennie Lucas (signed)
A Dinner, A Date, A Desert Sheikh by Jackie Braun (signed)
Unexpected Family by Molly O'Keefe
The Texan's Secret by Linda Warren (signed)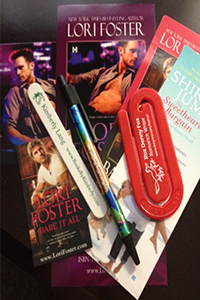 More To Texas Than Cowboys by Roz Denny Fox (signed)
(ARC) The Duchess Hunt  by Jennifer Haymore
I would like to thank the following authors for their generous contributions towards this Giveaway!  Susana Carr | Lori Foster | Bella Andre | Abby Green | Melanie Milburne  | Jennie Lucas |Jackie Braun | Molly O'Keefe | Linda Warren | Roz Denny Fox | Forever Romance |
Shipping Details:
Must have a US mailing address, PO Box. or a forwarding address in the US that I can mail to, For international mailing you must be willing to pay for USPS International Flat Rate shipping (Pre-paid via USPS or Paypal)
To Enter to Win: Box-O-Books!
1. You must be an email subscriber of HJ blog (If you aren't already, subscribe using floating "+Follow" button on right or use "Subscribe to Blog" widget in the footer section of this page ) 
2. Drop me a comment here … Have you read any of the authors above? Do you have a favorite book by them?
Please note: This contest will close on Saturday Aug 31st 2013 at 8:59 PM (PT) and the winners will be notified via email and on this Post. Winner will have 48 hours to respond to my e-mail before a new winner is selected.
Sara is the founder of Harlequin Junkie blog and owner of an endless TBR pile. A Risk Analyst by day, who moonlights as a book blogger and romance novel enthusiast. A voracious reader who is addicted to Love, Laughter and Happily Ever Afters :)