HEA Book Club LIVE CHAT: Goodnight Tweetheart by Teresa Medeiros
HEA Book Club Pick (August):
Goodnight Tweetheart by Teresa Medeiros
We are so glad you could join us today
From a New York Times bestselling author, the immensely popular world of Twitter comes alive in this delightfully modern yet unforgettably timeless love story.
Book Summary: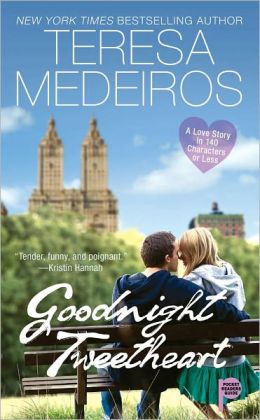 In Goodnight Tweetheart, now with an exclusive new epilogue, Teresa Medieros tells a poignant and engaging story in a groundbreaking style.
Can two strangers who meet (and tweet) by chance find a love strong enough to last a lifetime? That's the question former literary sensation Abby Donovan is forced to explore when she meets Mark Baynard on Twitter. Mark, an English professor traveling the world, shatters Abby's writer's block one witty tweet at a time.
Just as she begins to write and live again, she discovers Mark is hiding a secret that could change both of their lives forever. In the tradition ofSleepless in Seattle and You've Got Mail, two lonely people discover it doesn't take 140 characters to find your soul mate, just three little words.
 The Chat window below will go LIVE on 

Thursday Aug  22nd  

at 

6:00PM PT

, 9:00 PM ET.

Author 

Teresa Medeiros

 will be joining us for a Live Q&A.
Interested in being a Part of the HEA Book Club? Click HERE to join!
Thank You Gallery Books for providing the HEA Book Club with giveaway copies of  Goodnight Tweetheart
Winners:
| Pennie M | Pam B | Yazmin R | Tammy Y | Melody M | 
We hope you will join us for what is always a fun and lively discussion
Heather & Sara
Sara is the founder of Harlequin Junkie blog and owner of an endless TBR pile. A Risk Analyst by day, who moonlights as a book blogger and romance novel enthusiast. A voracious reader who is addicted to Love, Laughter and Happily Ever Afters :)