What Do You Consider To Be Your "First" Romance Read?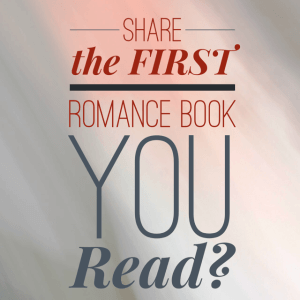 I hope everyone has been having a great new year. Today we are discussing what the first "true romance" novel was that we ever read. We hope that you join us.

When I think of romance I usually think of modern-day authors and the reason behind that thought is that I spend most of time reading such books. Count back to my early youth and I spent any free time I could get my hands on reading romance novels that were written in the late 80's and throughout the 90's. Novels such as those penned by authors like Linda Lael Miller, Anne Rice, Linda Howard and many more are credited to causing me to be bit by the romance bug at the tender age of twelve. My parents of course refused to accept the fact that I was ready to read romances, but the library had a bountiful supply and I wasn't about to stop reading the genre that made my heart flutter and gave me hopes of someday finding my own prince charming.

Yet, before such authors there were F. Scott Fitzgerald, Jane Austen, Emily Bronte and others that were penning classic romances that readers still enjoy today. I wasn't introduced to any of those authors I mentioned until high school. Sadly, many readers that I have interviewed over the years to do not consider those authors to be the first real romance read.
What exactly defines a true romance? Everyone has their opinion on the definition. Personally, a true romance for me has to have a HEA ending. X doesn't really matter to me I can take it or leave it, but the ending has to be a happy one or I don't consider it to be a romance novel.

To answer the question of the topic my first real romance book was Forever in the Night by Linda Lael Miller. The book might have been a paranormal-romance with a deadly, seductive vampire hero and a damsel-in-distress mortal for a heroine, but the book literally swept me off my feet and still does today. This is the one romance novel that I have read countless times to the point that I have had to purchase countless copies of the same novel because the spine begins to fall apart from the reading. Honestly, this is what it means for me to read a true romance novel a strong foundation of love, a HEA ending and of course heated, sensual scenes are never something to complain about when written correctly.

So think about to your first real romance read. It doesn't have to be the first novel that you ever read or even the second or third. It just has to be a true romantic read that delivers all the wonderful feelings about being in love.


So now I have a question. What was your first true romance read? Please let us know in the comments below.
Leone