A Baby for the Boss by Maureen Child: What happens when you have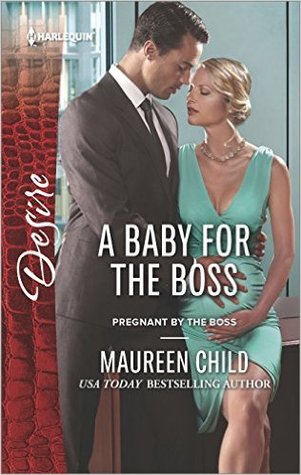 amazing chemistry with the one person you shouldn't and you have to see them every day?
Jenny Marshall knew that she hadn't really ever been wanted. Her parents bailed on her at 12 and the men in her life were pretty much worthless. There was her Uncle and he was amazing to her and slowly she was building her life in a place where she could finally belong. Then came her boss and he could destroy everything she had worked for.
Mike Ryan didn't trust easily, or really at all. Not since he learned the truth, or what he thought was the truth about his parents. The problem with not trusting people though, was the fact that he tended to think the worst of people right off the back. No on was allowed to get to close. The problem, the chemistry he had with one of his artists, the one who was going to do the murals in his new hotel. Which meant a lot of one on one time.
With chemistry like theirs it was only a matter of time before they fell into bed with one another but with the issue of trust looming so large between the two will they ever be able to overcome?
Ms. Child has given us a wonderful story, the second in a trilogy but can be read as a stand-alone. This story gives a wonderful plot line really getting into the issues of trust and how a childhood can affect your adulthood. The characters are well developed and while the scenery could have been flushed out a bit more, reading this novel you may think you are being transported into a love story with a bit of a different point of view. Overall this is a great story full of complications and ending with a love stronger than time.
Book Info:

Publication: January 1st 2016 | Harlequin Desire | Pregnant by the Boss #2
Is it a baby trap or will the boss become a dad? Only from USA TODAY bestselling author Maureen Child!
When Jenny Marshall meets gaming tycoon Mike Ryan, she thinks she's met The One. But when he realizes she's his competitor's niece he believes she's spying on him! Jenny thinks she's done with Mike…until she gets a new job—and he's her boss!
His angelic-looking employee is more temptation than Mike can resist—even if he still can't trust her. Now, she's pregnant with his baby. Is she playing the most elaborate game of all…or could mother and child be his if only he opens his guarded heart?