A Baby to Bind his Bride by Caitlin Crews is a sexy and unique romance about lost loves and second chances.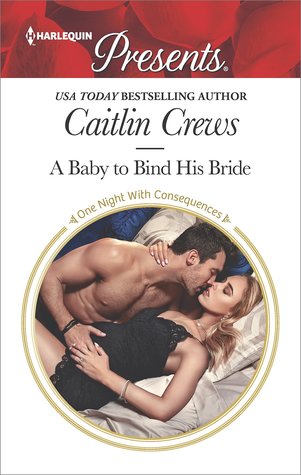 For four years, it's been assumed that billionaire Leonidas Betancur died in a plane crash – but his new bride Susannah doesn't believe it. Taking over his business on his 'death' and holding off his cousins and other family members from gaining control, her suspicions about his sudden demise led to a wholehearted but secret search. And now she's found him.
Leonidas lost his memory in the crash, and having been found by local cult members, became their leader. His character as a driven, ruthless man holds true even if he doesn't know who he is. When Susannah finds him and tell him she's his wife, his attraction to her leads to a kiss, and the return of some of his memories. Regaining his place as head of his family empire is only possible with Susannah standing by his side. But now that she's got him back where he belongs, will she stay and give their marriage the chance it deserves?
Trust Ms. Crews to come up with an interesting premise for an amnesia romance! Having her hero crash in a remote area and end up as a cult leader before regaining his memory upon being found by his wife is definitely not a plot I've seen before. This part of the story moves swiftly such that Leonidas and Susannah are soon back home and having to explain his absence while not giving any indication that he'd lost his memory. Not all of it has come back, and Susannah is the only one who knows this secret.
Susannah and Leonidas have an interesting relationship because Susannah had been betrothed to Leonidas to bind their two family empires as a young woman, and he had disappeared on their wedding night. She'd stayed a virgin while he was 'dead', and upon finding him again they consummate their marriage. They learn to trust each other, sharing details of their upbringings (painful for both) that draw them closer together. Susannah's fondest wish is to get away from the machinations of the Betancur family, which means divorce. But fate has other plans for them. Leonidas and Susannah are both strong, opinionated characters, Susannah having learned to fend for herself after Leonidas disappeared, and it will take some give and take from both of them to get the happy ending they deserve. Fortunately, it all falls into place, and with a lovely epilogue too. I recommend this passionate and entertaining romance!

Book Info:

Publication: Dec 19, 2017 | Harlequin Presents | One Night with Consequences
Claiming his wedding night! Presumed dead after a tragic accident, billionaire CEO Leonidas Betancur does not recall the vows he made four years ago. But after he is tracked down by his wife, Susannah, fragments of his memory reappear. He denied her of a wedding night, and now he is ready to collect!Abandoned in her bridal gown and believing herself a widow, Susannah now wants Leonidas to reclaim his empire so she can be free. But he is more untamed and dangerously attractive than she remembers! With a single touch she surrenders her innocence… And now the consequences of their passion will bind them together forever!