A Beau for Katie, by Emma Miller: Emma Miller has long been one of my favorite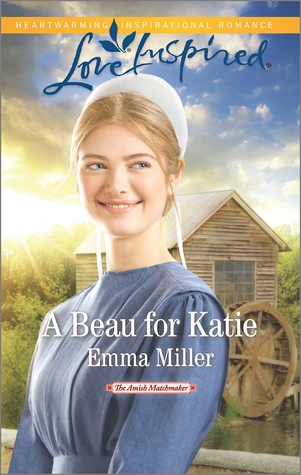 authors with Love Inspired, and the town of Seven Poplars, Delaware, is always f un to "return" to. So I was thrilled to read and have a chance to review "A Beau for Katie", set in this fictional town. This series is just as enchanting as Miller's first series in Seven Poplars, "Hannah's daughters".
I especially like that characters from that first series are sprinkled among characters in this newer series. "A Beau for Katie" brings together Katie and Freeman, two Amish community members who are both extremely strong willed. They initially clash as Katie is brought in to serve as a housekeeper for Freeman while he recovers from a painful injury. Freeman thinks she is too outspoken for an Amish young lady, and she thinks he is stubborn and unappreciative of her opinions and assistance.
As the story progresses they begin to appreciate each others' fine qualities and grow closer. An unexpected but surprise bonus is the blossoming romance of his grandmother and his uncle (from different sides of Freeman's family). Read "A Beau for Katie" to see what happens when these two opposites attract!
Fans of Emma Miller will not be disappointed, but rather delighted to read A Beau for Katie. This story had me not wanting to put the book down til I finished. One of the additional aspects of the story that I enjoyed was the special friendships that formed between Katie and Ellie, and Katie and Sarah; also, the delightful friendship Katie and Freeman developed that lead to their romantic spark. It is a beautiful reminder that so very often, friendship is the perfect foundation for romantic love. I highly recommend this book!
Book Info:

Publication: July 19, 2016 | Love Inspired | The Amish Matchmaker
Agreeing to work for two weeks as a housekeeper to help a family in need seems like a good idea to Katie Byler. But when Katie sees the handsome, young—and single—Freeman Kemp for the first time, she wonders what she's gotten herself into. Freeman may be considered a catch, but the stubborn young man is driving strong-willed Katie to distraction. When the two of them decide to play matchmaker for Freeman's elderly uncle, though, their feud takes a different turn. The spark between them is strong, but can Katie and Freeman reach common ground to find their happily-ever-after?