In A Cold Creek Christmas Story (Cowboys of Cold Creek #14) by RaeAnne Thayne, Librarian Celeste Nichols has spent years recovering from the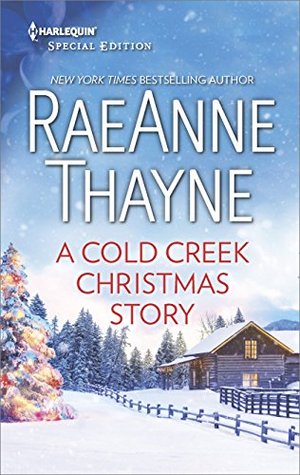 trauma of losing her parents when she was a child. Once she and her two sisters moved in with their aunt and uncle in Pine Gulch, Idaho, she began to focus on writing uplifting stories which has now turned into a new, thriving career writing children's books. Celeste never dreamed her past could help others heal as well. But one sweet girl named Olivia and her caring father Flynn steal her heart and fill her with dreams of building a strong future together.
Celeste's throat felt tight and achy. …"She's been through a horrible ordeal. It might be years before the nightmares fade."
"You sound as if you know a little something about nightmares." He studied her closely.
The holidays are bittersweet this year for Flynn. Not only is he back in Pine Gulch to clean out his beloved grandmother's home after her recent passing, but his daughter is recovering from an attack that hurt her deeply and took the life of her mother. Meeting Olivia's favorite author, Celeste, at the local library was a good sign. But Flynn soon realizes that not only is Celeste helping Olivia navigate tough emotional waters, she's setting his heart soaring as well. Staying in town was not something he had considered previously. But Flynn isn't sure he or Olivia can leave Celeste behind after Christmas is over.
'He couldn't let himself develop feelings for this woman, no matter how amazing she was with his child, he reminded himself. He had to focus on his daughter right now. She was the only thing that mattered.'
RaeAnne Thayne has delivered a truly heartfelt romance coupled with the story of a community helping an emotionally and physically scarred beautiful little girl heal. If this book doesn't get you in the Christmas spirit, nothing will!
Don't let the fact that this is book fourteen in the series keep you from jumping in and reading about Celeste and Flynn's romance. This totally works as a standalone title on its own. A Cold Creek Christmas Story was the type of touching, special romance that truly makes me believe in happiness and love. I cannot say enough wonderful things about the way Thayne molds and shapes her characters, making them come alive on the pages and in my heart. They are always genuine, flawed, and stunningly realistic.
As much as I loved the chemistry between Flynn and Celeste–and there was a lot!–honestly, it was the connection between Celeste and Olivia that stood out to me. They both had been through very similar situations so they understood each other in a way that not many could. I loved watching Olivia come out of her shell and begin to heal. She was an extraordinarily strong young girl with, thankfully, a very loving, supportive dad in her corner. Celeste had a lot to do with her healing, but the town as a whole was just as loving and careful with Olivia, too.
Flynn was quite a grounded, down-to-earth guy considering his privileged childhood. It was pretty easy to fall for the hardworking carpenter who absolutely 100% adored his young daughter. Celeste thought so too! I loved the shy, almost awkward way they acted when they were together. It felt real. As did Flynn and Celeste's confusion over whether they should try for romance where he was likely headed back to California after the holidays. The dilemma added tension to their already emotional connection, so a lot of fun was to be had by us readers!
I know I can always expect a romance that will warm my heart, make me laugh, and take me on a wonderful journey when I pick up something by RaeAnne Thayne. And this Harlequin Special Edition is right up there with the best of them. Definitely recommended.
Book Info:

Publication: December 1st 2015 | Harlequin Special Edition | Cowboys of Cold Creek #14
Sparkle In The Snow Leads To So Much More
Celeste Nichols has always preferred to keep to herself in her hometown of Pine Gulch, Idaho…until she becomes an instant celebrity! When one of her children's stories becomes a major success, she's suddenly the talk of the town. Celeste should be gloriously happy…but something, someone, special is still missing from her life. Could the return of her childhood crush be the answer?
Flynn Delaney has moved back home for his daughter's sake. Yet all the millionaire's resources can't help the little girl heal from the tragic loss of her mother. Shy librarian Celeste and her stories do hold some indefinable magic, though. Flynn came home looking for support—can he find that, and true love, in the one who got away?