What a fun read! A Dare Worth Taking by Erin Nicholas is another standalone installment in the Dare to Love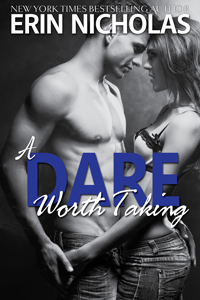 novella series from Kindle Worlds. Author Carly Phillips developed the "Dare" family and each novella created under the Dare to Love umbrella, includes some of the characters and/or settings from her original, ongoing series. This story is about Destiny Duncan, a trainer for the Tampa Breakers, and Jax Elliot, a superstar receiver for the Miami Thunder.
The Breakers and the Thunder are NFL rivals, so naturally Destiny and Jax's relationship is news fodder for all of the TV networks. In addition, Destiny and Jax have a romantic past, which only exasperates the constant gossip and speculation of their rekindled relationship.
This love story left me feeling warm and tingly all over. Jax is a fine and sincere man, so when he realizes what he wants is Destiny to be back in his life, he does everything possible to make that happen. He gives her a job during her off hours, sends her tons and tons of Campanula, her favorite flower, and treats her to the best sex ever. Erasing past mistakes with each and every day. Destiny is head over heels in love with Jax and only wants what is best for him, even if that means she is not in his life. Luckily, advice from the team's psychologist Madison Dare, and Destiny's words of wisdom on game day, give Jax the push he needs to play at his best.
Out of all the Dare to Love novellas I have read so far, I like this one the most. Jax is an amazing character and I will always remember the way he proposed to Destiny. Ms. Nicholas crafted the perfect words and emotion in an unlikely setting for a marriage proposal. Destiny and Jax have amazing yet complicated chemistry and their unique relationship was fun to be a part of. Don't pass up the chance to read this sexy romance with great characters and an engaging plot.
Book Info:

Published March 23rd 2015 by Kindle Worlds | Dare to Love
A novella set in the Carly Phillips Dare to Love Kindle World!
Sometimes there's no escaping Destiny…
When Miami Thunder star receiver Jax Elliot fell in love with Destiny Duncan, it felt right. He didn't care that she was a trainer for the Thunder's biggest rivals. Didn't care about his boss or hers, didn't care what the fans or the media thought. Destiny was the best thing to ever happen to him—until he started dropping the ball. Literally. And he was forced to make a choice. The woman he loved. Or the game he loved.
He chose poorly.
Months later, in need of a trainer he can trust, Jax turns to the woman he still wants above all others. Things quickly turn physical—the sex between them more explosive than ever—and the physical quickly becomes emotional. One thing hasn't changed: Jax and Des are still deeply in love. But something else remains the same as well. He still can't catch a damn ball with Destiny in his head.
It'll take a Dare—or three—to help Jax understand it's not about catching every ball…it's about knowing that the woman he loves will always be there to catch him.