In A Deal for the Di Sione Ring (The Billionaire Legacy #6)by Jennifer Hayward,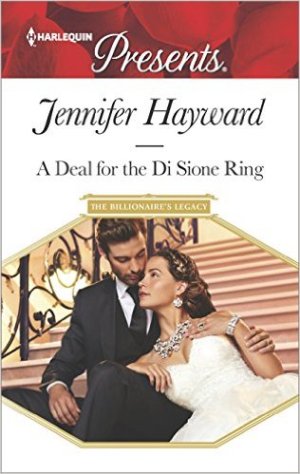 pressured to marry a man she doesn't love, Mina Mastrantino is running out of options to change her future. That is until she meets Nick Brunswick, a handsome man who makes her a deal she can't refuse. In exchange for being the man she will now marry, she will give him the ring his grandfather has asked him to locate. However, things don't go according to plan, and soon Mina finds herself falling for Nick. Can she convince him to give their marriage a real chance instead of it being one of convenience for the pair?
"The only thing that would be more of a disaster than this day's already been," he drawled finally, apparently ready to have mercy on her, "would be for us to end up in bed together. So a partnership it is, Mina." He lifted his glass. "What do you say?"
She seized hold of her senses. "So we have a marriage in name only and a business partnership. How are we positioning the marriage to others?"
"As if it's a real marriage."
Getting to know Nick a little bit in the previous book of this series, I was really looking forward to reading his story, and I've got to say that it does not disappoint. He's a hero determined to get the one thing his dying grandfather has asked of him, and if he has to propose a marriage of convenience to the heroine to get it, then that's the choice he'll make. No matter whether his choice turns out to be the worst or best he's ever made, because he'd do anything for his grandfather; the one man he shares a strong bond with and that made his life better.
Both the main characters were very entertaining, and I loved every moment they conversed. Nick wants their marriage to be in name only, because he hasn't witnessed a healthy relationship and doesn't want to be classed as the bad guy when their marriage ends. Yet, there's something about Mina that he can't resist. She's everything he'd want in a woman, if he ever decided to give happy ever after a chance. She's strong and brave in the way she goes against what her mother wants for her future. Also, she's quite smart and proves how good she is when it comes to her future with the tasks Nick assigns her while they work together.
While Nick, he's confident and hard-working; a man that has done well for himself, despite his upbringing where his father didn't even acknowledge his existence and he never got the privileges that his half-siblings had. Also, the hero is kind and caring in what he did for his grandfather so long ago. Too bad it isn't something he can do again to help his grandfather.
His gaze ate her up in a frank appraisal that made her lungs tight. "I should have left my jacket and tie on. In the face of such perfection…"
The breath whished from her lungs. "You're far more relaxed when you're not in a suit and tie."
"I'm not sure relaxed is the state of mind I should be aiming for right now."
Her stomach plummeted. "This…talk," she pointed out weakly, "is not helping the situation."
His mouth curved. "I think being self-aware is not a bad thing at the moment."
Overall, this was a really good book where strong chemistry between the two main characters spills over onto the pages in deliciously hot sex scenes that illustrate how right these two are for each other. Mina is really innocent when it comes to men and sex and the hero definitely treats her right, which is proven through his emotions and reactions. The way this story ended had me worried whether Nick would finally realize how good Mina is for him, or whether he'd doom their marriage, especially after her discovery and what it could mean for their future.
However, in saying this book was a great read; there was something that frustrated me about it. How come there wasn't more drama caused by Mina's ex-fiance? The pompous man was a complete jerk that I thought wouldn't stand for anyone doing what Mina did, yet the couple experienced little trouble when it came to him. I would recommend A Deal for the Di Sione Ring by Jennifer Hayward, if you enjoy the marriage of convenience trope.

Book Info:

Publication: December 20th, 2016 | Harlequin Presents | The Billionaire's Legacy #7
"Marry me, sell me the ring and I will fly you out of here tonight."
Hotel magnate Nate Brunswick's faith in marriage was destroyed by his father. But in searching for the ring that his beloved grandfather has asked him to retrieve, the illegitimate Di Sione who hates weddings finds himself inconveniently engaged!
The alluring owner of the ring, Mina Mastrantino, can only pass it on once she's married. Quick vows and an even quicker annulment should be easy…but the exquisite impromptu wedding night gives them both far more than they planned!