In A Deeper Grave (Shades of Death #2) by Debra Webb, Bobbie Gentry will do anything to take down the monsters that prey on the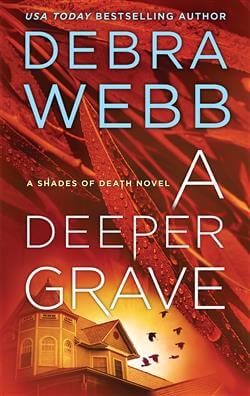 innocent, and this time she's after a killer copycatting the kills of serial killers Nick Shade has taken down and made sure they can't hurt anyone else. Knowing she owes Nick in some way for making her see that her life is worth living, even when she's lost those she loves most, Bobbie is determined to find the killer to keep Nick safe just like he did for her once. Except someone has other plans for Nick, and if Bobbie doesn't find the person responsible for the crimes, those plans could come to fruition.
"He suggested the murders were a message to you. That these organized serial killers – he called them the Consortium – are coming for you. He's concerned they'll try using me as a way to get to you." She stared out the window and said the rest. "That's why I hesitated before calling. I didn't want you to come to Montgomery." I knew you'd come.
He pulled into the parking lot of a convenience store. "You couldn't hope to stop me."
Bobbie stared out the windshield at nothing at all. "Weller could be manipulating us."
After what Nick and Bobbie went through in the first book of this series (No Darker Place), I couldn't to wait to discover what was in store for the pair in this second story and I've got to say that it does not disappoint. As this time, the man who hunts serial killers becomes the Hunted. Since someone has plans for the hero; plans that could take Nick to a very dark place he might not be able to stop from going to without Bobbie by his side.
The dialogue was again – like in the first book — told from several points-of-view, well-written and intense due to the main characters back stories. As well as intense due to what the killer is doing, the investigation into finding the killer because it's palpable someone is determined to split Bobbie and Nick's focus by targeting the people Bobbie loves, and what happens that could spell trouble for the hero. Nick is strong, protective and I liked how determined he was to help Bobbie, despite being a possible target for the killer. Bobbie's the only person that's ever made him feel anything enough to distract him from his objective of hunting serial killers and I could understand why he would do anything for her. She's the first woman to make him feel alive, and no way was he going to let anything happen to her after all that she's been through. She's already lost too much.
"I'm startled by how much I respect you," Weller said. "I admire such determination and dedication to the job, especially after all that you've been through."
"I'm sure you didn't call to compliment me on my work ethic. What do you want?" Bobbie's own fury was written all over her face.
"Right now you may feel as if things can't possibly get worse, but you have my word that I've only begun. What you've seen so far is merely a prelude. Every ounce of courage and tenacity you possess will be required to survive what's coming, Bobbie. Remember those words if you remember nothing else."
While Bobbie, she's been through a lot in her life having lost her husband and son, and she's not about to lose Nick too, not when he was the one to make her realize that giving up on life isn't the answer. Also, she's strong, brave and I liked how far she was willing to go to find the killer, even though she knows she could find herself in danger at any time, especially with the criminal she's after targeting people she loves. Will she find the killer before it's too late? What will happen to Nick?
Overall, Ms. Webb has penned an intriguingly deep, dark and suspenseful tale in this book, which kept me on the edge-of-my seat as this story progressed into dangerous territory for the main characters. It also has me desperately awaiting book three, since Nick and Bobbie grow closer together in this story and the hero finally crosses the line his father was hoping he would. Is Nick on his way to becoming like his father, or will Bobbie be able to save him? The way this story ended had me concerned for Bobbie and Nick, as Bobbie is surprised by who the killer is and knows that she's going to need everything within her to take the person responsible for the murders down, as the killer is a sadist that doesn't deserve to be taken alive by the police, certainly not after what he does to his victims.
Moreover, what happens at the end of this book also sets up things for what's to come for this couple and I'm really excited to read the next book. Would Bobbie be able to save Nick, or will his dad win? I would recommend A Deeper Grave by Debra Webb, if you enjoy romantic suspense that rides a very dark edge when it comes to serial killers and their sadistic proclivities. I would also recommend this story if you enjoy books by authors Mary Burton, Karen Rose or Allison Brennan.

Book Info:

Publication: May 30th, 2017 | Harlequin MIRA | Shades of Death #2
When the hunter becomes the hunted…
Serial-killer hunter Nick Shade built his legendary career chasing monsters—sadistic criminals with a gruesome thirst for death. When he rescued Montgomery detective Bobbie Gentry from horrific captivity and helped her reclaim her life, he didn't intend to be a hero. Or a target. But now a copycat murderer haunts him, and reuniting with Bobbie is his best chance at neutralizing the threat.
Bobbie can't forget the nightmares of her trauma—or the man who saved her. Working with Nick to outmaneuver the person behind a deadly vendetta feeds her hope that there's more to her world than ghosts and destruction. Maybe joining Nick's search for a killer is about gratitude. Maybe it's nothing more than cold revenge. But the only way they can protect themselves is to trust each other.