A Diamond for the Sheikh's Mistress by Abby Green  is a sexy, contemporary look at a desert King and the woman he can't forget.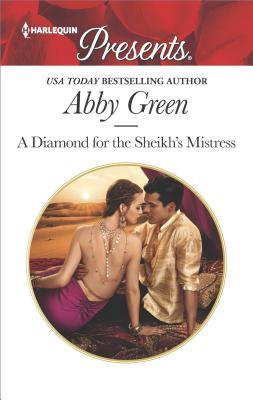 Sheikh Zafir Al-Noury, ruler of the desert Kingdom of Jandor, has not forgotten the passionate relationship he had with supermodel Kat Winters. When scandal had rocked them both, Kat had walked out of his life, and Zafir had let her go. But he hasn't forgotten what they shared, and the chance to have her back is too good to pass up. He needs a model to show off the legendary Heart of Jandor diamond, soon to be on a promotional tour as part of his drive to promote investment in his country. Kat would be perfect. But first he has to find her.
The night Kat left Zafir is seared into her memory, and she bears the physical stars. Struck by a car, she lost part of her leg and endured months of rehabilitation. With her prosthetic she walks with barely a limp, but she left the modeling world with no plans to return. When Zafir finds her, she is working as a waitress, no longer the queen of the runway. Zafir doesn't know about her injuries, nor does she plan to tell him. The money he offers her to model the diamond is too good to pass up though, as it would give her a chance to give back to the rehab center that helped save her life, and her best friend who helped with her medical bills. Zafir is clearly intent on resuming their sexual relationship and Kat knows that she will not be able to resist him. Can they find a way to reconcile their past and have a new and even better future together?
I loved this story! The characters are excellently portrayed, and they are both willing to admit fault for the failure of their initial relationship. Zafir acknowledges that he never gave Kat a chance to explain the scandal that erupted in the papers, related to her background. And he realizes that his belief that she was 'perfect' in his eyes did not let him see the woman she really was. Similarly, Kat kept part of herself hidden from Zafir, playing up to the role he expected of her and not letting him see her true self. It's only in the time they spend apart and coming together again to tour with the diamond that they can admit to making mistakes.
The sexual attraction between them is just as strong as in the past, and leads to some sensual scenes. Kat is hesitant at first because she doesn't want to reveal her injuries. Zafir makes it clear that she is desirable no matter what. In fact, he's hurt that she believes he would be shallow enough to reject her for her physical scars. It's another sign that when they were first together elements of trust were missing. Now, there are no more secrets.
The setting of this story takes place in various locales, including European capitol cities as well as Zafir's country, where Zafir and Kat take a trip to a lush desert oasis. The author clearly did her research on amputation and daily life with a prosthetic, making Kat an empathetic but resilient and strong woman. In the end, Kat and Zafir have grown enough to make their second time around one that will last. I highly recommend this story, and I am looking forward to reading more of the series!
Book Info:

Publication: Oct 17, 2017 | Harlequin Presents | Rulers of the Desert #1
Scandalous mistress…or desert queen?
Sheikh Zafir Al-Noury cannot forgive model Kat Winters for breaking off their engagement, but he cannot forget their burning-hot nights together. Hiring her to promote his kingdom's most famous jewel creates an opportunity for renewed seduction…
Walking away from Zafir devastated Kat. The pain has made her strong, but the fire he ignites is stronger yet—Zafir tempts her to complete sensual surrender! Even if that means exposing every part of herself to the man who once ruled her soul…