A Diamond in her Stocking by Kandy Shepherd: Lizzie Dumont was jealous. To her no one liked her best, not her father, her sister, or her ex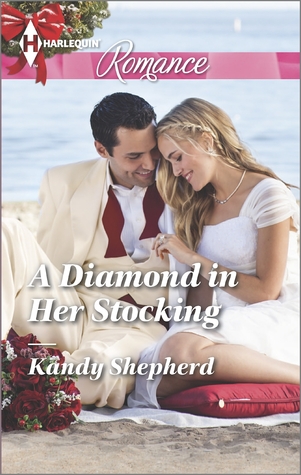 husband. She was tired of coming in second. She was ready for a new start for her and for her daughter so she jumped at the chance to move close to her sister and open a new café.
Jesse Morgan was a player, or at least his reputation made him out to be. He was a good guy though, an engineer by trade he was working for a charity organization rebuilding towns after natural disasters. The problem was he was starting to feel unsettled, but was it time to settle down? Or was it time to just change careers again?
Jesse and Lizzie were related by marriage, his brother to her sister, and because of such they were thrown together a lot. The problem was a lot of attraction and a lot of jealousy. Can they both get over there issues to realize that the best thing for each of them can be staring them right in the face? Or will their own issues be just too big a wall to overcome?
This is a romance novel. Ms. Shepherd tells the story of jealousy and love, of overcoming fears and a gentleman who wants a lady so badly that he is willing to work for her and for her love. The descriptions of behaviors will have you hoping to understand your own fears as well as you do theirs, or have a person in your life willing to work as hard as Jesse is. There isn't a lot of heat, so don't pick it up for that, nor for the title which doesn't really mesh with the story, but if you are in the mood for a strong hero, one who works for love this is completely for you.
Book Info:

Published December 2nd 2014 by Harlequin
Everyone loves a Christmas wedding!
Chef and single mom Lizzie Dumont is moving on. Returning to Dolphin Bay to make her new restaurant a success, she has no time at all for jaw-droppingly handsome Jesse Morgan—even if she can't forget that incredible kiss they once shared!
Jesse can't forget their kiss, either. But the betrayal in Lizzie's past has made her wary of him, and he hates the fact that she can't see past his reputation as a heartbreaker. Now he's on a mission to change her mind—and luckily it's the most romantic season of the year: Christmas!