A Doctor to Remember by Joanna Neil: While Saffi waits for the caretaker of her late Aunt's house to arrive at her hotel, she ponders her "new" life. It's really her only life. She can't remember anything much before waking up at the foot of her stairs having fractured her skull. She gets back dribs and drabs every so often, but she's hoping that coming back to the place where she supposedly spent a lot of time as a child will help to spark something into coming back.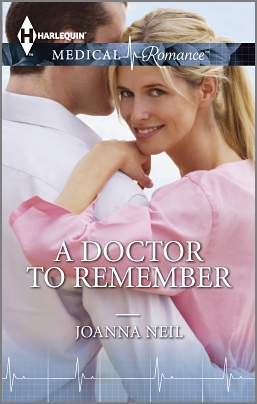 Matt Flynn isn't exactly the caretaker Saffi is expecting. He's also not expecting a Saffi that doesn't remember *anything* about him. It's torture to live almost literally in the same house and not tell her that they were happy and in love before a misunderstanding broke them apart. Harder still to keep himself from wrapping his arms around her and showing her how much he misses her.
As soon as she sees her Aunt's house, she starts to remember things from her past. She knows this is the place she thinks of as 'home'. At least that's a comforting start to her recovery. She knows she can live here and try to remember in peace. Why is she so afraid to drive again? Why does she feel so attracted to Matt? When she accompanies Matt on an emergency call, being a doctor is second nature. Saffi takes to it like a duck to water, so she hesitantly agrees to work part-time at the hospital.
While Saffi is trying to remember her life, there are a few things that crop up that don't make sense. People that say things, memories that hurt, situations that confound… perhaps getting her memory back will be more confusing than she thought.
I really enjoyed this read. Sometimes the tension between Matt and Saffi was simply crackling. It was nice to see her pick up things along the way like she was using her 'muscle memory'. She was a natural doctor, and Matt and Saffi treating children was touching and made my eyes prickle. I'm assuming they worked in a children's ward, but I'm not entirely sure.
The bit with her city 'ex' was a tad on the predictable side, I was taken aback by how it came to a head near the end. Glad how Matt intervened. The story about Matt's family was a nice touch as well. If you enjoy HQ Medicals, this is a good, solid read – on the chaste side, but well worth it.
Book Info:

Published February 1st 2014 by Harlequin Medical Romance
A new beginning…?
After a traumatic accident leaves her with amnesia, emergency doctor Saffi is trying to rebuild her life–with the help of a "new" colleague. It's strange that she cannot remember the gorgeous Matt Flynn…. How could she have forgotten those compellingly handsome features?
Though he knows he could lose her again, E.R. consultant Matt is determined to help his beautiful Saffi regain her memory. Can he rebuild her trust and prove to Saffi that the love they once had is worth fighting for?