A Family for the Billionaire by Dani Wade is the first story in her new Savannah Sisters series. It's a sexy, enjoyable romance with a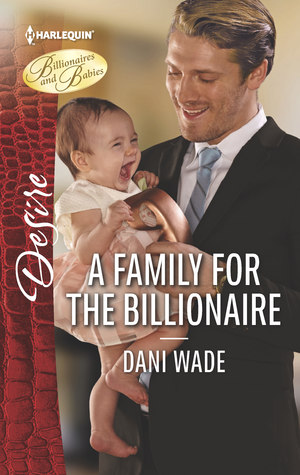 hero who finds his future plans waylaid by a spirited heroine and her sweet baby.
Royce Brazier is a businessman through and through. With his sights set on new investors, he figures a way to get into their good books will be to host a charity event for something that will interest them. When he hires event planner Jasmine Hayden for the task, she knows the investors in question and their tastes, and she sets up the perfect evening – a masquerade party benefiting an inner city mission. It was at this place that Jasmine became friends with a young woman who succumbed to cancer, leaving behind a beautiful six month old baby girl that Jasmine had no qualms in adopting.
Having been raised by a single mom himself, Royce admires and respects Jasmine, even if he's got a pretty firm opinion that children don't belong at the workplace. He's attracted to her, but clear that he's not interested in a ready-made family. Jasmine is under no illusions that the handsome billionaire is offering anything more than a fun time but it's certainly nice to have his attention. Only Royce soon realizes that not only does he like Jasmine, but that the little girl is finding a place in his heart too. Will this confirmed bachelor find love and a family in his future?
I really enjoyed this story! Jasmine is a sexy and smart woman, with a kind heart. She has two younger sisters, Willow and Ivy, who play prominent roles in the story as does the woman who raised them after their parents died, whom they call Auntie. They all live together, and Jasmine's family helps take care of her daughter Rosie. I enjoyed seeing this close knit family and their care and concern for each other. It's quite the contrast to Royce's solitary days which are spent working long hours and without anyone to come home to. He has no family to speak of, just an estranged father who abandoned him and his now deceased mother. But as he spends time with Jasmine while they are planning his event, he comes to know them and develop a soft spot for Rosie too. It was really sweet watching him become attached to her.
It's not long before the time Jasmine and Royce are spending together turns intimate, and they share some sensual love scenes. Crossing the line between being Royce's event planner and his date makes Jasmine realize how much she's coming to care for him. But Royce will have to convince Jasmine that his feelings about family have changed. Some misunderstandings cause the conflict between them that eventually gets resolved and gives them a lovely happy ending, though I did find it a bit rushed. Overall though, it's a delightful romance and well worth the read!

Book Info:
Maria Rose| 4 Stars | HJ Recommends | No |
Publication: Sep 01, 2017 | Harlequin | Savannah Sisters #1
This stubborn tycoon isn't a family man…or is he? When Royce Brazier hires the hottest event planner in Savannah to mastermind his charity masquerade ball, it's just another win for his portfolio. But Jasmine Harden isn't some lackey to boss around. The dynamic single mom and her adorable little girl quickly penetrate Royce's business-only facade…and Jasmine's passionate kisses cast a sensual spell… Jasmine fears falling for the most eligible bachelor in town, even as she falls into Royce's bed. Is her billionaire boss's bad attitude about family based on a deeper hurt? Perhaps Jasmine and her daughter are the ones to change his mind!