In A Father For Her Triplets by Susan Meier When Wyatt McKenzie arrives back in his hometown – buffer, richer, and on the heels of a bitter divorce – he has no idea what's in store for him just beyond the hedges of his late grandmother's house.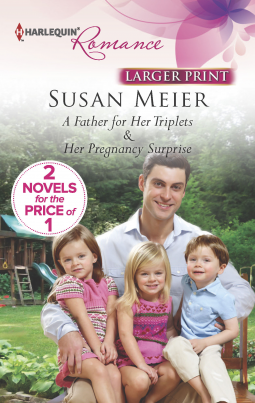 Missy remembers Wyatt from high school as the geeky kid she broke a date with on graduation night. He left town with the incident hanging between them, and she doesn't expect to see him ever again. When the male contingent (Owen) of her triplets decides to breach the boundaries of their backyard, he brings back part of her long-lost past.
Wyatt worked up through the ranks – first writing comic books, then buying the company that publishes them. After a brief marriage that ends after his wife cheats on him, he ends up losing 30% of his company to her. That sours him on all women, and he's resolved to stay out of relationships.
Missy's ex skedaddled once he learned he would be a father to triplets – taking all of her security with him. She didn't have time to mourn the death of her marriage, but now she's well on her way to becoming an independent cake designer.
Wyatt remembers how besotted he was with Missy in high school, and until he learns the truth about that night, their missed date is a sticking point for both of them. Too bad their bodies and hearts don't know that. Owen gravitates towards him because he has no other males in his life, so how can Wyatt say no – even when temptation to be near Missy becomes distracting.
He's in a position to help her in her business, but is floored when she is offended by his offer. He gets it. She's been left high and dry already, and she wants to stand on her own two feet. So he draws up a contract that will keep things strictly business. Again, it's not enough to keep them from wanting more from each other.
Is he ready for home and a family hundreds of miles away from his compromised company? Is she ready to trust another man after the hell of her father and ex-husband? Hope I'm not spoiling anything for ya, but it's safe to say things work out in the end. *wink*
I really enjoyed this book. I like how Missy has inner strength even though she's been to hell and back. And she's not afraid to confront her problems head-on. Wyatt is fighting to keep his new 'cool' persona in the forefront, but with Missy around – his inner nice guy geek fights to emerge.
Heartwarming, but not steamy – this is more romance than hotness. Very well-written and plotted, and the pacing was perfect. 4 hearts.
Book Info
Publication Date: May 7, 2013 | Series: Harlequin Romance (Book 4375)
A Father for Her Triplets:
 An uplifting new tale celebrating Mothers in a Million.Single mom Missy Johnson has worked hard to provide her adorable triplets with the secure childhood she never had. But now that her baking business has taken off, Missy's left struggling to juggle cupcakes and kids!That is until gorgeous Wyatt McKenzie comes back to town, bringing memories she'd prefer stayed locked away… But when she sees him bonding with her mischievous trio, Missy realizes five might just be the perfect number!
Reader Favorite—Her Pregnancy Surprise
Grace would do anything for her daughter—even if it means seeing Danny again. He broke her heart once, and he doesn't even know he has a child….