In A Firefighter in her Stocking (Christmas in Manhattan #2) by Janice Lynn, when her playboy neighbor and NYFD firefighter,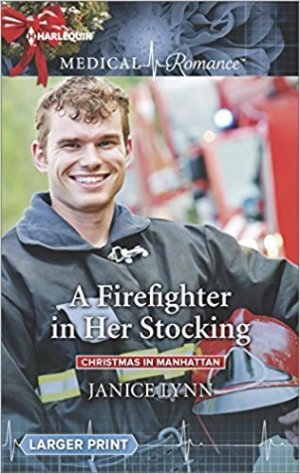 Jude Davenport, comes into the ER with a child he's rescued from a burning building, Sarah Grayson finds herself melting to the gorgeous man that she normally doesn't give the time of day. So, when Jude makes Sarah an offer to spend time with him up until Christmas, she finds it hard to refuse. Yet, the more Sarah gets to know Jude, the more she finds herself falling for a man that has already loved and lost. Will Jude be able to prove to Sarah that she's the woman he wants or will Jude lose her because of his past demons?
"Why is it that I'm certainly not your type, Sarah?"
She blinked, then gave a haughty little tilt to her chin. "Because I'm not into men who sleep with so many different women."
Were they back to that? "I think you overestimate my prowess."
She broke eye contact and laughed. "Nice try, Casanova."
"He watched her toy with her wine. "What type of men are you into?"
After reading the first book of this series, I couldn't wait to read more about the Davenports, and this story was an absolute delight to read due to the enthralling main characters that are at odds because Sarah doesn't have a very high opinion of Jude as he's a total player; and wonderful dialogue that had me loving the interactions between the hero and heroine, as Sarah provides quite a challenge for Jude in the beginning. Will Jude be able to win Sarah over? Will Sarah discover there's more to Jude than his playboy ways? The way this story started had me amused due to Sarah's reaction to Jude and what she catches him doing. Will she give him her piece of mind or do the mature thing and walk away?
As for the dialogue, it was intense and a tad emotional due to the main characters back stories and what they go through on their journey to happy ever after. Jude had deep feelings for a woman in the past and it made him distance himself from his family. Will he be able to make things right with his cousin, Charles? However, the dialogue wasn't all intense. There were some really good light-hearted moments between Sarah and Jude that makes for excellent chemistry and tension and had me wanting to discover which one of the main characters would break when it came to physical intimacy between them since Jude didn't want to rush into exploring their chemistry until they'd gotten to know each other better. Will Sarah be able to seduce Jude?
"You're good for my ego."
She cut her eyes upwards. "As if your ego needs stroking."
"It has been a while."
To which she turned to him with wide, accusatory eyes. "Whose fault is that? Not mine, because I'm willing. You're the one who's moving at a tortoise pace."
He laughed and bent to kiss her forehead. "It's going to be all the sweeter when we do, Sarah."
Both the hero and heroine were incredible, well-developed and characters I could not get enough of. Certainly, Sarah challenges the hero when it comes to facing his past and when it comes to why he's been with so many women. Really, she's sassy, smart, hard-working, independent, and I liked how determined she was to make Jude realize that family is important. Will he makes amends with the one person he turned his back on because things didn't work in his favor when it came to a very special woman in the hero's past? While the hero, he's the black sheep of the family in becoming a firefighter instead of following in the footsteps of others of his family that are doctors. He's a total adrenaline junkie, which is understandable because he has a desperate need to help people, which is proven by what he does on the job that could put him at risk. I also liked how determined he was to win the heroine over. Is it because she's different to the type of women he normally goes for?
"No buts, Sarah. Just you and me. Forever."
That had her staring wide-eyed at him. "Forever? I thought you just wanted me through Christmas."
"Haven't you figured out the truth yet, Sarah? I want you for Christmas," he corrected. "Not through Christmas."
"A doctor under the tree, eh?"
"A fireman in your stocking."
Overall, Ms. Lynn has penned an incredible read in this book where the chemistry between this couple was powerful; the romance was full of spark and explodes onto the pages wonderfully to show how good Sarah is for Jude; and the ending had me worried for one of the main characters because of what happens to them. However, in saying that, I liked how determined Jude was to win back Sarah because she means everything to him and there's no way he's letting her get away. Seriously, his words were precious and proved how much Jude loved Sarah. I would recommend A Firefighter in her Stocking by Janice Lynn, if you enjoy the enemy to lovers trope or books by authors Alison Roberts, Susan Carlisle, Amy Ruttan and Robin Gianna.

Book Info:

Publication: October 1st, 2017 | Harlequin Medical | Christmas in Manhattan #2
A gift impossible to resist!
When a firefighter rushes a child into her ER, Dr. Sarah Grayson is stunned that the ash-covered, exhausted hero is her incorrigible playboy neighbor, Jude Davenport!
Sarah is wary of such men, but when gorgeous Jude suggests a Christmas fling, she can't resist. Yet their relationship deepens, and Sarah sees behind the playboy is a man who has loved and lost. He might try to keep his emotions on ice, but Sarah begins to wonder—could she be the one to heal his damaged heart?