A Friendly Flirtation by Christine Warner: When Jared is approached by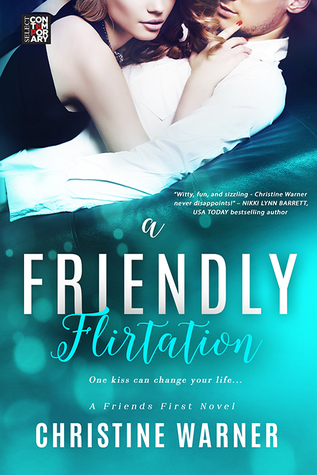 his best friend and partner's sister, Allison, to help with her makeover he says no at first. But after her initial attempt, he can't help but help her.
Allison has always been the wallflower and she's sick of it. She wants to stand out and she wants a man's attention. Jared, a symbol of confidence and sex appeal, is the one to help her, she feels, with his entourage of women.
But as they get closer throughout the makeover and faux-dating to up her social confidence, feelings begin that neither one expected.
"Since when had he become attracted to a nerdy girl who could weave a spell around him with just a few words or looks? Not to mention she kissed like she fucking did it for a living. He might be a good teacher. But he hadn't taught her any of that. Her sex appeal was all natural, and it drove him fucking over the edge."
A Friendly Flirtation is a very cute read. Although at times I felt she was a bit too pitiful, Allison was sweet and enjoyable to follow. Jared, too, with his confusion and such strong desire for Allison was lovely.
I almost feel the conflict wasn't strong enough. It was more due to misunderstanding and miscommunication than any brotherly or friend loyalty. Also, makeover novels normally aren't my favorite because they say the man doesn't want her until she looks different, but I thought Warner did this well. It was definitely clear Jared wanted her because they spent time together and she grew enough confidence to be herself rather than he only noticed her new look.
The third in a series, this story is not at all hard to follow, but along with recommending you read the sweet A Friendly Flirtation, I recommend you read Warner's previous novels in the series.
Book Info:

Publication: February 15, 2016 | Entangled Publishing | Friends First #3
Allison Hall is fed up with being a social outcast. Even at the tech company where she works for her brother and his best friend, Jared, she's the invisible nerdy girl. What she needs is confidence—and that requires a makeover and dating tips. And she knows just the man to help…
Jared Esterly is shocked when Allison asks for his assistance and turns her down, knowing that her brother—his business partner and best friend, Nick—would kill him if he dated her, even if it is just for practice. But when Al's attempt to make changes on her own fails spectacularly, Jared reluctantly steps in. Things heat up quickly, and soon lessons move from the salon to the bedroom.
When overprotective big-brother Nick discovers Jared is dating Allison, their friendship and business partnership sour. Allison, consumed by guilt, must make a choice: stay with Jared, even though that means ruining his friendship with Nick and possibly his career, or leave the one man who sets her on fire.