In A Girl's Guide to Moving on (New Beginnings #2) by Debbie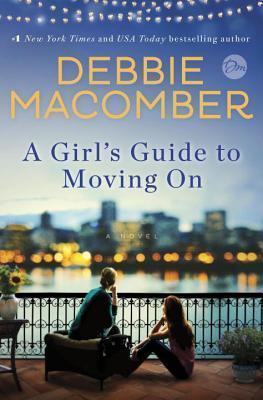 Macomber, Nichole has watched what her mother-in-law Leanne has gone through with a cheating spouse for years. So when her own husband Jake, Leanne's son, cheats on Nichole she knows the trust is gone and files for divorce, becoming a single mom with a job, an apartment and sharing custody of their son Owen. But a few years later when she befriends Rocco, a tough-looking guy with a heart of gold, Nichole wonders if she might be ready for a relationship again.
'I needed to let go of the past and at the same time love myself enough to do what I knew was right for Owen and for me.'
Leanne has thought about divorcing her unfaithful husband Sean for years, yet resigned herself to a loveless marriage. But when her daughter-in-law and close friend Nichole has the courage to file for divorce, Leanne takes a stand and does the same. She enjoys her new freedom and begins teaching English at night where she meets Nikolai, a lovely man from Ukraine. Never in her wildest dreams did Leanne ever think she could have love in her life at this late stage. But if she and Nikolai can withstand the obstacles thrown their way, they can enjoy a new beginning together.
'He told me I was no longer alone and I believed him. Nikolai, for whatever reason, loved me. Me, who for far too many years had felt completely unlovable and unloved.'
Debbie Macomber always takes her readers on an emotional journey and her latest release was no exception. A Girl's Guide to Moving On was chock full of friendship, heartache, love, grief, and of course, new beginnings.
The premise behind this newest offering from Debbie Macomber had me wondering how it would work out. I mean, a mother-in-law and her daughter-in-law both going through divorces at the same time? In my mind it had awkward written all over it. But then I realized how close Leanne and Nichole were and how wonderful it was that they could help each other through the changes in their lives. Not only did they both file for divorce at the same time, but they had dealt with the same issue that ended their marriages: unfaithful spouses.
I loved the bond between Nichole and Leanne. They tried to be supportive without taking sides, when it would've been so easy for them to be vindictive or give their partially biased opinions. Instead, they encouraged each other and were a sounding board when things got tough. That included when Leanne and Nichole both found potential love interests a few years after being on their own. That was when things really got complicated for each of them.
I kind of fell a little in love myself with Rocco and Nikolai. The way they were written, they weren't just secondary characters to the plot. They were pivotal characters who jumped off the pages and stole scenes. I really enjoyed Rocco's connection with Nichole's son Owen. He didn't push for Owen to like him and certainly didn't expect the hero worship he received from the little tyke. And Rocco's daughter was a fun addition when she was interacting with Nichole. There was a nice dynamic there, even through the ups and downs in her and Rocco's relationship.
Nikolai had to be one of the sweetest guys I think Debbie has created. He complemented Leanne's giving, compassionate personality so well. I was heartbroken a few times over things that occurred between them and how tough of a situation they found themselves in. I thought the tough issues they faced were written in a very realistic manner, showing Leanne and Nikolai's flaws and strengths. It also made me get all misty eyed several times, to be honest!
For me, A Girl's Guide to Moving On was a rock solid story that had me rooting for Nichole and Leanne to succeed from page one. If you're looking for a book with a lot of heart and characters you can empathize with, this one is for you.
Book Info:

Publication: Published February 23rd 2016 | Ballantine Books | New Beginnings #2
In this powerful and uplifting novel from #1 New York Times bestselling author Debbie Macomber, a mother and her daughter-in-law bravely leave their troubled marriages and face the challenge of starting over. Leaning on each other, Nichole and Leanne discover that their inner strength and capacity for love are greater than they ever imagined.
When Nichole discovers that her husband, Jake, has been unfaithful, the illusion of her perfect life is indelibly shattered. While juggling her young son, a new job, and volunteer work, Nichole meets Rocco, who is the opposite of Jake in nearly every way. Though blunt-spoken and rough around the edges, Rocco proves to be a dedicated father and thoughtful friend. But just as their relationship begins to blossom, Jake wagers everything on winning Nichole back—including their son Owen's happiness. Somehow, Nichole must find the courage to defy her fears and follow her heart, with far-reaching consequences for them all.
Leanne has quietly ignored her husband's cheating for decades, but is jolted into action by the echo of Nichole's all-too-familiar crisis. While volunteering as a teacher of English as a second language, Leanne meets Nikolai, a charming, talented baker from Ukraine. Resolved to avoid the heartache and complications of romantic entanglements, Leanne nonetheless finds it difficult to resist Nikolai's effusive overtures—until an unexpected tragedy tests the very fabric of her commitments.
An inspiring novel of friendship, reinvention, and hope, A Girl's Guide to Moving On affirms the ability of every woman to forge a new path, believe in love, and fearlessly find happiness.