A Kiss to Build a Dream On (White Pine #1) by Kim Amos is the first book that I have read by this talented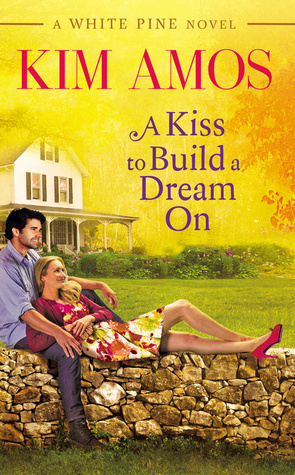 author. This book has a little bit of everything. It is about asking for and receiving forgiveness, it is about finding out who you really are, it is about an old house and old loves rekindling the magic. There are funny friends and handsome construction workers, scary ex's and a wonderful HEA. This book has a little something for everyone.
Willa Masterson left her hometown of White Pines Minnesota 12 years ago and never looked back. Running from the death of her father and a mother that left her, Willa is afraid that the one person that she counts on, the one person that she loves, Burk Olmstead will realize she is not worth the trouble and he will leave her too. After losing everything to a thieving ex, Willa runs back to White Pines and the only thing that she has left, her old family home and possible Burk.
When Willa left town she took Burk's heart with her. Burk and his family never fit in with Willa and her family. Raised on the wrong side of town, scraping for everything that he ever had, Burk is now a successful contractor with one thing on his mind, getting Willa to sell him her family home, not turn it into a B&B.
Working side by side to restore Willa's family home, old feelings start to rekindle, but when Burk and Willa have a misunderstanding, and then Willa's con of an ex shows up in town, these two need to find a way to rebuild the trust and love before everything falls down around them.
Ok the sparks between Burk and Willa were HOT. They had a chemistry that would not quit, but they were both afraid to put their hearts on the line. For Willa she was afraid that Burk and the girls at Knots and Bolts would never forgive her for the way that she treated them, the things that she did, and the way that she ran out of town. For Burk, it was a fear that if he gave his heart to Willa again, it would totally destroy him when she left town.
I loved the ladies at Knots and Bolts. They are a funny bunch that like to share recipes, share some hot dish, share secrets (cause there are no secrets at Knots and Bolts), and they love to add a little spirits to they coffee. These women were forgiving and supportive. It took them some time and it took Willa to make amends, but in the end, when someone is in trouble, hurting or in need of help, they come running to aid in anyway that they can. I want to be a member of their club.
I would recommend A Kiss to Build a Dream On by Kim Amos to anyone that loves a second chance story with a little drama, a little heart ache, but a beautiful HEA that makes the journey much sweeter.
Book Info:

March 31st 2015 by Forever
TROUBLE IN HIGH HEELS…
If pride goes before a fall, Willa Masterson's trip back to White Pine, Minnesota, should be one heck of a tumble. The girl who left her hometown—and her first love, Burk Olmstead—in the rearview twelve years ago was spoiled and headstrong. But the woman who returns is determined to rebuild: first her family house; then her relationships with everyone in town . . . starting with a certain tall, dark, and sexy contractor.
MEETS HER MATCH
Burk has no reason to believe Willa has changed, and every reason to discourage her from converting the Masterson house into a B&B. He has plans of his own for that house, and they certainly don't include a no-vacancy sign. But Burk didn't count on how distracting Willa's bright green eyes or her all-too-familiar touch would feel—or how impossible she will be to resist…