In A Life Saving Reunion (Paddington Children's Hospital #6) by Alison Roberts, Rebecca Scott and Thomas Wolfe were happily married until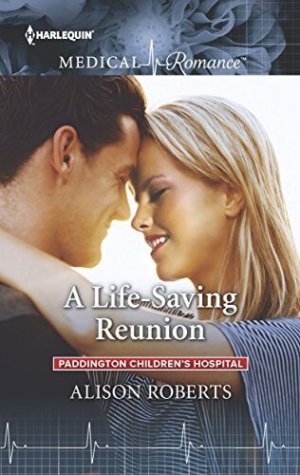 tragedy struck and they lost someone very important to them. But now they're back in each other's lives and working together to see if they can help keep Paddington Children's Hospital open. But when a desperate attempt to save a young girl's life brings back painful memories of the past, will Rebecca and Thomas be able to help each other through the tough times or will the fact that Thomas can't get past his grief lose them their second chance at love?
"So, why did you say it, then?"
"You've been so distant ever since you came back. So cut off. I don't even recognize you any more." There was a hitch in Rebecca's voice that went straight to that place that calling him 'Tom' had accessed. "I guess wanted to know if the man I married still exists."
His words were a little less of a snap this time. "I haven't changed."
"Yes, you have." He could feel Rebecca looking at him but he didn't turn his head. "Something like what we went through changes everyone. "But you…you disappeared. You just…ran away."
What a heartbreaking, yet captivating read Ms. Roberts has penned in this last book of the Paddington Children's Hospital series that tugged at my heart-strings big time due to the main characters history and all the medical action the hero and heroine have to deal with. The way this story started had me feeling sorry for the hero, as he's so closed off and still grieving and it's hard to be able to do his job on a ward where he's attending to kids. However, I liked that his grief didn't stop him from treating those that needed him.
As for the dialogue, it was well-written and had me hooked and determined to discover whether Thomas would be able to overcome his grief completely just like Rebecca has. Can the heroine help him by finally admitting how she managed to overcome her own grief, even though she'll never forget their loss? Will Thomas understand her reasons for doing what she did to help her overcome her grief? Furthermore, the heroine is strong and brave in having been able to continue in her career, considering the loss she and Thomas suffered and I liked how kind and caring she is to everyone she's helped.
While the hero, I was charmed by the way he grows throughout this story. He didn't handle their loss real well, which is understandable and I could also understand why he blamed himself. I also liked how he finally stopped running and started to fight for a second chance with the heroine, as she helped him to heal from the pains of their past by getting him to open up and talk about everything.
"Have we, Becca? Have we found each other again?"
The full glow of this reborn connection might be fragile but fragile things needed nurturing, didn't they? "I hope so." She reached up to touch his face. "I don't think I ever stopped loving you, Tom."
He bent to kiss her. A soft touch that clung for a heartbeat and then another. "Same."
Overall, Ms. Roberts has penned a wonderful conclusion to this series where the chemistry between this pair was delightful and where readers discover the fate of the hospital, whether one of the doctors and nurses most adored patients is going to get better, and where the ending left me completely satisfied because it shows love can conquer anything. However, the epilogue wrapped this story up perfectly, because of how things turned out for Rebecca and Thomas. They're so happy together, especially with the heroine's surprise. I would recommend A Life Saving Reunion by Alison Roberts, if you enjoy second chance romances or Harlequin Medical romances, have read the other books of this series, or enjoy books by authors Carol Marinelli, Kate Hardy, Karin Baine or Annie O'Neill.

Book Info:

Publication: June 1st, 2017 | Harlequin Medical | Paddington Children's Hospital #6
A love worth fighting for…
Cardiologist Thomas Wolfe's speciality is mending broken hearts, but no one knows how much his own still hurts five years on…
Torn apart by the sadness of losing their little girl, Tom and his ex-wife, transplant surgeon Rebecca Scott, are virtually strangers, until they're thrown together again at Paddington's to save the life of another very special little girl. Can a miracle surgery prove that it's never too late to give love a second chance?