In A Lowcountry Christmas (Lowcountry Summer #5) by Mary Alice Monroe, As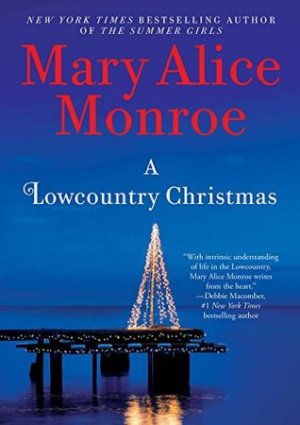 far as Jenny McClellan is concerned, she's getting her Christmas present early this year: welcoming home her son Taylor from the Marines. Something that unfortunately many of his comrades' families were not able to do after an IED killed most of his crew. But the injured man who arrives home, cringing away from hugs and locking himself in his room, is not the same personable man Jenny raised. As she learns of his daily struggles with PTSD, her hopes for a modest but joyous holiday are dashed. Until a phone call awarding a service dog to Taylor changes their lives and helps set them on the road to healing.
'We were having tough times, sure, but love and laughter were not things that could be purchased–they came from the heart. It was up to me as the mother to make this holiday the happiest Christmas ever.'
Ten-year-old Miller has been waiting for the right moment to tell his parents what he really wants for Christmas. Not an Xbox or Playstation, but a puppy. Although with his dad having trouble finding steady work and his mama working extra hours, he knows they don't have the money for a dog. So when Taylor comes home and throws the whole family into chaos without meaning to, even getting a dog when he knows Miller wants one, his guilt intensifies. Thor is a service dog who can provide comfort and help him with his anxiety, but he's not a pet. He turns out to be a compassionate animal who instead creates a new bond between the brothers. But when Miller goes missing with Thor in an attempt to find a tree for their Christmas celebration, Taylor's training as a Marine might be the only way to find them and bring them home safe.
"You'll get better, I know you will. You're one of the lucky ones. You survived. You're home now."
I felt a flare of anger at hearing myself called a lucky one. The question of why I survived and my buddies didn't haunted me.
"Did I survive?" I said with a bitter laugh. My voice turned cold. "The jury's still out on that."
A Lowcountry Christmas was an incredibly touching story about the McClellan family's struggles during one of the toughest holiday seasons they had ever endured. A classic Dickens novel, a brave and loyal service dog, and the love of their community ultimately helped the family find the true meaning of Christmas and strengthen their bond.
'Then, surprising me, Thor lifted his paw and put it firmly on my thigh. I felt the weight of it touch my heart.
Thor's generous gesture opened the floodgates of my emotions. This dog had showed more courage than I. This great, powerful, beautiful dog was willing to take a chance on me–a broken, depressed, lonely Marine.'
Now I'll be honest in that I haven't read all of the Lowcountry Summer series yet but I've had a great time with those that I have checked out. I think, for me, going into this Christmas story with no preconceived notions about who should or shouldn't be included probably had me at an advantage compared to longtime fans of the series. I personally loved getting to know the McClellans and thought that their situation felt real. From the Captain's lack of dependable work, to Miller's wish of a getting a dog, to Jenny's hope for a wonderful Christmas for her kids, and even Taylor's troubling PTSD, there wasn't anything that felt too outlandish or untrue.
It was interesting that author Mary Alice Monroe wrote this from three POVs: wounded warrior Taylor, his ten-year-old brother Miller, and their mother Jenny. Unfortunately we didn't get to see things from Taylor and Miller's father Alistair's POV which was too bad because he came across rather harshly until the very end of the story. I did feel like we really got to know Taylor, Miller and Jenny quite well, though. I will warn that there were some bleak moments while Taylor was in the midst of dealing with his return home and the effects his PTSD was having on him and his family. Although I absolutely adored the scenes where he began to bond with his service dog Thor and thought it showed how much of a difference these beautiful animals can make in someone's lives.
I thought Monroe really captured Jenny's feeling of helplessness in not being able to assist her oldest son with his injuries and with her youngest son in his one wish for a dog for Christmas. She was such a strong, standup woman who truly was the glue that held the family together with her selflessness. And Miller was a fairly astute little ten-year-old. I think some of his inner monologue might have been advanced for his age but his emotions were genuine and that's what counts to me overall. I did like getting to see him five years later in the epilogue, to see the upstanding, thoughtful young man he had become.
No one writes a Southern Lowcountry story like Mary Alice Monroe, with such heartfelt emotion and in this case, with that undeniable spirit the holiday season brings. If you're looking for a book to give you all the feels this Christmas, I think this will be just what you need.
Book Info:

Publication: Published October 25th 2016 | Gallery Books | Lowcountry Summer #5
A wounded warrior and his younger brother discover the true meaning of Christmas in this timeless story of family bonds. A poignant continuation of the Lowcountry Summer series.
As far as ten-year-old Miller McClellan is concerned, it's the worst Christmas ever. His father's shrimp boat is docked, his mother is working two jobs, and with finances strained, Miller is told they can't afford the dog he desperately wants. "Your brother's return from war is our family's gift," his parents tell him. But when Taylor returns with PTSD, family strains darken the holidays.
Then Taylor's service dog arrives—a large black Labrador/Great Dane named Thor. His brother even got the dog! When Miller goes out on Christmas Eve with his father's axe, determined to get his family the tree they can't afford, he takes the dog for company—but accidentally winds up lost in the wild forest. The splintered family must come together to rediscover their strengths, family bond, and the true meaning of Christmas.