A Man for Honor by Emma Miller is a delightful story about second chances, and about never forgetting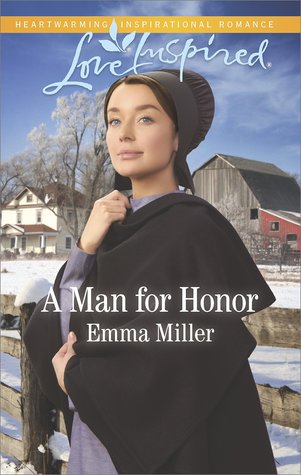 one's first love. It also contains the theme of forgiveness, a very common theme in novels about the Amish, as forgiveness is such an important behavior and act in their culture.
When Luke re appears in Honor's life, after abandoning her on their wedding day several years earlier, Honor understandably has a difficult time trusting Luke or wanting to even speak with him. Luke, however, is determined to help Honor now that she is widowed and has four extremely active young children. He hopes to regain her trust and her love through his work fixing her farmhouse, and through his gradual bond with her children.
Honor reluctantly allows him to help with repairs, and gradually warms up to Luke once again. But she is convinced that she needs a widower or older husband to help discipline her children. Can Luke, and Sarah the matchmaker, convince Honor to give Luke a second chance? Can she realize that he is much more mature now ?
I don't want to reveal any spoilers, but I do want to say that I highly recommend this newest romance by Emma Miller. One additional facet of the story that I enjoyed was the opportunity to once again read about Hannah Yoder and her daughters and their families- as they were part of this story and warmly embraced Honor, her children, and Luke. I so enjoyed "re-visiting" them!
Book Info:

Publication: January 16, 2018 | Love Inspired | The Amish Matchmaker #6
With four children and a dilapidated farmhouse, Amish widow Honor King asks Seven Poplars's matchmaker to find her a secure and reliable new husband. Someone the opposite of her first love—who left her at the altar nine years ago, yet whom she's never been able to forget. Luke's back in town, and also looking for a new partner. For him, there's only one candidate to be his wife—the woman he let get away. But when Honor won't let him into her life, he works his way into her house. Hammer in hand, he'll fix her home…but it'll take more than brawn and nails to mend her heart.