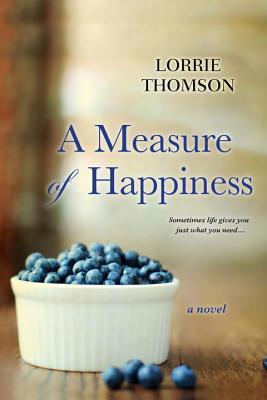 A Measure of Happiness by Lorrie Thomson: This was a wonderful story about finding love, healing, and making peace with the past. It is a story about forgiveness and friendship, of facing your choices and finding strength. I love stories that have depth and this story has it in spades.
Katherine Lamontagne is the owner of a bakery, she has made mistakes in her past, but she is loving, caring and tries to take care of everyone close to her. When she changed her mind about selling the business to Celeste Barnes, the young woman that she thinks of as a daughter, Celeste runs away to New York to start culinary school to prove to Katherine that she does not need her. When Celeste returns a month later, not wanting to talk about what happened, Katherine is concerned. Afraid to push Celeste too far, she turns to her ex-husband and the man that she still loves with all her heart for help.
When a young, handsome stranger named Zack Fitzgerald comes to town, it will turn Katherine's world upside down as she tries desperately to keep her past from catching up with her. But Zack might just be what both Katherine and Celeste need to heal their wounds and allow them to open their hearts again.
There is so much about this story that was just wonderful, The characters for one thing. Celeste opens up to Zack and he to her in ways that they could not confide in other people. Worried that they would be shunned or looked at like they were garbage. Celeste and Katherine's lives were such mirror images of each other, yet neither knew it. The way that Katherine grew up and the things happening in Celeste's life currently were a parallel of each others experiences. Then there was Katherine's ex. He loved her, she loved him, but she let him go because she hides a secret that she could not share with him, and she was so afraid of losing him that she let him go before he realized that she was not what he thought she was.
In the end, both Katherine and Celeste find love and get a HEA. Peace is made, questions answered and secrets revealed. This is a wonderful story about love, forgiveness and strength. I look forward to more from this author.

Book Info:

Expected publication: August 25th 2015 | Kensington |
Katherine Lamontagne isn't Celeste Barnes's mother, but ever since Celeste graduated high school and her parents abandoned Hidden Harbor, Maine, she's acted the part. At twenty-two, Celeste worked at Katherine's bakery, and hoped to buy the business once Katherine took early retirement. But when Katherine reconsidered that decision, Celeste fled to culinary school in New York—only to return two months later, a shadow of the girl who'd stormed out the door.Katherine knows the signs of secret heartbreak. Years ago, she gave up her baby son for adoption—a regret she's never shared with either her ex-husband or Celeste. She longs for Celeste to confide in her now. But it will be a stranger in town—an engaging young wanderer named Zach Fitzgerald—who spurs them toward healing. As both women are drawn into Zach's questioning heart, they also rediscover their own appetites for truth and for love—and gain the courage to face the past without being imprisoned by it.
Uplifting, emotionally rich, and deeply satisfying, A Measure of Happiness illuminates the nature of friendship, motherhood, hope—and the gifts of second chances.