In A Miracle for the Baby Doctor (The Halliday Family #2) by Meredith Webber, after years of being unable to conceive,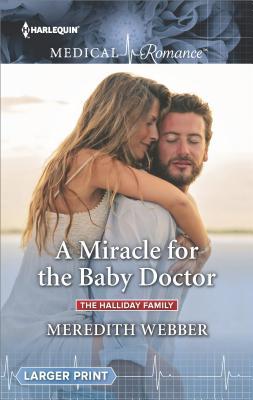 Francesca 'Fran' Hawthorne was crushed when she discovered her husband was cheating on her, but now she's found a way to get past her divorce by accepting the opportunity she's been given to head over to Fiji and put her skills as an embryologist to work. However, she never expected to meet a man that could make her interested in happy ever after again, especially not when he wants the one thing she can't give him – a baby. Will a miracle happen, or will their chance at happy ever after never happen?'
"Like it?" he asked, and was rewarded with a brilliant smile.
"Love it!" she said. "It's the rainforest crowding all around it that make it special. And the jungle vines there, like the ones Tarzan swung on, so you can imagine him and Jane splashing around in here." She paused then added, "Though it you do a 'me Tarzan, you Jane' joke I'll probably hit you."
Having really enjoyed the first book of this series, I was absolutely looking forward to reading this story and learning more about The Halliday family, and I've got to say that I loved this story even more than the first book. Not only due to the wonderful main characters and their interesting back stories, but because this is an island romance story that had me fascinated by how determined the hero was to show the heroine that there's more to the island than working.
The way this story started had me sympathizing with the heroine, as discovering her husband was cheating on her and her subsequent divorce has her contemplating the choices she's made since. Will accepting the job her boss has lined up for her be good for her?
As for the dialogue, I was hooked due to the main characters back stories, as Fran has been through so much with her ex and not being able to have the baby she's always wanted. Spending time away overseas working is perfect and a good distraction from being reminded of her failures. Will she find happiness will another man? Will she be able to help the people over on the island get their wish? Moreover, I loved the enthusiasm the heroine has for her job and how hard-working she is. She does everything in her power to give the couples she's helping the best chance possible. I also liked how Steve showed her there's more to the island than work. That she didn't shy away from giving a man a chance, even though she knew that their relationship would have an end date.
"Oh, you little beauty," Fran breathed, though she was jolted back to reality by Steve's laughter.
"So, you talk to your equipment, too," he teased, and she turned and smiled at him, suddenly at ease with the situation in which she found herself, at ease with the work ahead of her, and the pleasure she suspected would come from whatever relationship she had with this man, limited though it might be.
While the hero, he's been lucky in life when it comes to the foster family he landed with when he was younger and it made me really enjoy his back story, because he's known both love and loss and come out the better for it, despite the losses he has suffered. I also liked his determination to show the heroine how fun the island can be and how much he's respected by the people on the island. Certainly, he does good work and helps people achieve miracles. Yet, what I liked most about the hero is how he teased the heroine when it comes to their work or when they're having fun.
Overall, Ms. Webber has penned a really good read in this book where there's plenty of chemistry between this couple, which had me hoping that things would work out for the best, because this couple are so deserving of happy ever after. The way this story ended had me charmed by the efforts Steve goes to in winning the heroine's heart. Can he convince Fran to give him a chance? However, it was the ending and the first meeting of Steve's family for the heroine that wrapped this story up nicely, as the heroine fits in wonderfully. Certainly, she realizes she's finally found the right man. I would recommend A Miracle for the Baby Doctor by Meredith Webber, if you enjoy island romances, the second chance romance trope or books by authors Annie O'Neil, Susan Carlisle, Alison Roberts and Louisa Heaton.

Book Info:

Publication: July 24th, 2017 | Harlequin Medical | The Halliday Family #2
Conceived in paradise When beautiful embryologist Fran Hawthorne is offered the opportunity to work on a Pacific island for a month, she seizes the chance to escape the humiliation of her ex-husband's betrayal. But Fran isn't prepared for Steve Ransome, the handsome doctor heading the clinic. After years of struggling to conceive with her ex, Fran is tempted to give in to the pure passion that burns between them. Only their "temporary" fling results in her carrying the child she thought she'd never have.