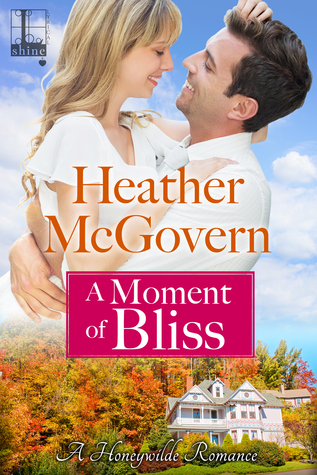 A Moment of Bliss by Heather McGovern: Wedding planner Madison Kline is planning a wedding for her rock star clients at Honeywilde Inn. There she meets the Roark Bradley, the majority owner of the inn, who runs it along with his two brothers and his sister. After the inn being almost run into the ground by his parents, Roark is determined to make Honeywilde a popular destination once again. The publicity they would receive from the wedding would be just what they needed to bring in more customers and save the inn.
In some ways Roark is laid back and playful, yet when it comes to the business he's nothing but serious, which was similar to Madison. She's serious all the time, and Roark wants nothing more than to get her to loosen up.
She shook her head. "Might be some spider webs. You get to go first. Take them all down with your face."
He managed to breathe out a laugh and turned onto the path. "Should've known there was a catch."
"Just getting you back for the spider crack last time we ran."
"That was over a week ago," he joked, but inside he fist pumped that she'd lightened up enough to tease him.
Having basically raised his younger siblings for his parents, he tends to be hard on them and judgmental of their ideas. Madison realizes that all they want to do is make Roark proud, and she does her best to get him to recognize it to ease the tensions between the siblings.
A Moment of Bliss is a sweet story with likeable characters and an enjoyable plot. I'm looking forward to reading future installments of the series, as this book made me curious about Roark's siblings.

Book Info:
Stacey Bruneau| 3.5 Stars | Nope! | No |
Publication: August 16, 2016 | Lyrical Shine | A Honeywilde Romance #1
Roark Bradley is no stranger to responsibility. Growing up, he practically raised his younger siblings while his parents threw themselves into working the inn—and arguing with each other. Determined to make the Honeywilde shine once more, Roark jumps at the chance to conduct business with a no-nonsense event planner who approaches him about celebrity nuptials that could put the inn back on the map. If only it wasn't so tempting to discuss some no-strings attached pleasure with her instead…
Madison Kline is done with weddings—at least personally. Her own youthful mistake is a well-guarded secret, and one she refuses to repeat. But as she and bold, broad-shouldered Roark work together to make a rock star couple's wedding a reality, she finds herself wishing romance didn't feel like a four-letter word. Can either of them surrender their hard-won independence and workaholic ways for something sweeter—and even more rewarding?