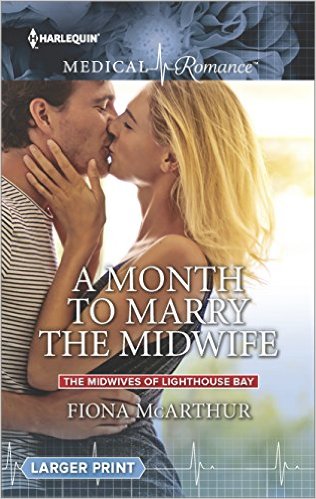 In A Month to Marry the Midwife (The Midwives of Lighthouse Bay #1) by Fiona McArthur, Ellie Swift swore to herself she'd never get involved with another man, especially after the horrible way her ex-husband treated her. But the moment Dr. Sam Southwell walks into the hospital ready to work as the locum obstetrician for a month, she finds it impossible to stay away from him. Can Sam convince her to give love a second chance, or will their painful pasts keep them from ever finding happiness again?
"You look sad. Is it so bad to have to ask me for help?"
My word it is. "Yes."
Of course he smiled at that. "Pretend I'm someone you hired."
"I don't have to pretend. I did hire you."
He laughed at that. "Technically the administration hired me."
What a wonderful way to start a series Ms. McArthur has done with a book that was filled with plenty of emotion — both happy and sad, two characters that need each other to heal from their painful pasts and a storyline that illustrates love is worth fighting for. The way this story started with the prologue sets the fast-pace of this story, and I liked how it revealed to me as a reader just what happens with the doctor for the hospital to need a locum.
As for the dialogue, it was intense due to the main characters back stories and the medical scenes that they have to combat. Both aren't sure they'll ever be ready for another relationship with Sam losing his wife, which has left him with a lot of guilt and Ellie managing to escape a horrible marriage that has left her extremely cautious of men. Can Sam show Ellie that not all men are like her ex? However, there's more to Ellie than just being cautious of men, and Sam helps her work through those issues too, by being there for her when she needs him. Really, he's good for her just as much as she is for him. Then there's the couple of light-hearted moments that occurred between these two that made me smile, especially the coffee incident and when they're talking about hobbits.
The moment Sam was introduced into this story, I absolutely loved him. Yet, it took a while for me to warm up to the heroine. She has serious trust issues, which was understandable considering what her ex did. But her disinclination to give Sam a chance until the moment she finally does had me frustrated with her. He's a good man; one that deserves a chance, even if she fears getting hurt again, and especially after all he does for her by helping her overcome her phobia; a phobia that she's had from childhood because of a horrible incident where kids can be so cruel.
He shook his head. "I don't know. I've been avoiding where possible the more emotive and connecting aspects of my work. My father saw how distanced from people I was becoming so it's not surprising he saw this place as a change of scene for me." He glanced at her ruefully. "A chance to try to jolt me out of it."
While Sam, he's kind, caring, hard-working and definitely needs the time he spends in Lighthouse Bay to help him realize that he can't continue to bury his grief and guilt by being an emotionless robot that's all work and no play. Luckily, Ellie's kind and caring nature when it comes to her patients rubs off on him and shows him that he can do a lot of good with his research into extreme premature labor. So, he can help other women where he couldn't help his wife.
Overall, Ms. McArthur has penned a really good medical romance in this story where the romance was light on detail, but still had plenty of chemistry between the main characters. The way this story ended was wonderful, as Sam isn't about to let Ellie push him away anymore. Both of them deserve to be happy, and it's palpable throughout this story that they can be, if Ellie lets her guard down. But what I liked most about the ending was the surprise the heroine had for the hero. I would recommend A Month to Marry the Midwife by Fiona McArthur, if you like sweet, emotional reads where the main characters need each other to heal from the pains of their pasts or if you enjoy second chance romances.
Book Info:

 February 21st, 2017 | Harlequin Medical | The Midwives of Lighthouse Bay #1
Falling for the midwife
Midwife Ellie Swift has devoted herself to beautiful Lighthouse Bay's tiny hospital. After a painful divorce, she's vowed never to get involved with another man—but then the sexy new locum obstetrician walks through the door!
Despite his own damaged heart, Sam Southwell is captivated by Ellie's warmth and compassion. She's a woman who deserves a fairy tale! It won't be easy to change her mind, but Sam's never walked away from a challenge…