In A Night, A Consequence, A Vow (Ruthless Billionaire Brothers #1) by Angela Bissell , when her father puts the gentlemen's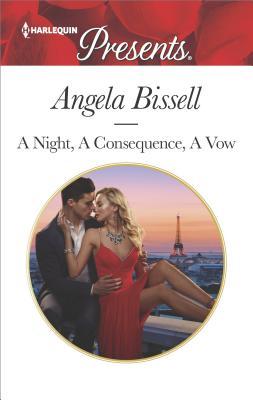 club that has been a part of her family through generations in jeopardy, Emily Royce has no choice but to sell her father's shares to save the club. Giving Ramon De La Vega the deal he wants is difficult to deal with, but not nearly as difficult as resisting the handsome and ruthless man. Yet, when spending a night with him in Paris leads to consequences she never imagined, will Ramon do the honorable thing or will he leave Emily to deal with the after-effects because he doesn't believe he can be everything Emily needs him to be because of his past?
She eyed him across the wide mahogany table, her head tilting to one side. "I'm curious about your interest in The Royce, Mr De La Vega. Your own clubs seem to be doing rather well but they're hardly in the same league. This establishment is built on a foundation of prestige and tradition and we cater to an elite and very discerning clientele. We are not a playpen for the nouveau riche."
What an absolutely-fantastic and utterly enchanting read Ms. Bissell has delivered in this first book of her Ruthless Billionaire Brothers series, which features the younger De La Vega brother that has returned to help his older brother and earn redemption from a past he feels guilty about because of what happened to people he cared about. The way this story started had me hooked immediately, because the brother's relationship is strained after everything that happened with Ramon in the past. Xavier, the older brother believes that Ramon is too much of a wild child that would rather party and flirt with women than be responsible. Will Ramon prove that he has what it takes to help his brother? However, it was from the moment that the hero and heroine meet that had me wanting to laugh at Ramon trying to charm Emily and the hero getting nowhere. Certainly, Emily proves she's immune to his charms and very protective of her family's gentlemen club.
As for the dialogue, it was well-written and very engaging because of the incredible main characters that have heartbreaking back stories, which made them relatable and likeable and characters that made it easy to read this book in one sitting. Furthermore, the heroine was resilient, courageous and I liked how she stood up to Ramon when it came to things she didn't agree with such as making changes to the club or when he was trying to do things for her that she didn't want him to do. I also liked that both the main characters weren't afraid to confront their pasts, especially when they're so painful with Emily feeling like her father hates her because of what happened to her mother and Ramon losing people he cared about and feeling guilty over their deaths. Will Emily be able to help Ramon overcome his guilt? Will Emily finally understand why her father has been so distant from her all her life?
A tense silence descended. She couldn't argue with that simple truth. Then again, she wasn't in a terribly rational mood. She set her jaw. "I'm not going."
He scowled. "You will."
"I won't."
"Now you're being childish."
"What are you going to do?" She gave him an arch look. "Spank me?"
While the hero, he's confident, charming and I liked how determined he was to win the heroine over because she's good for him. I also liked how he finally faced his past, even though it isn't easy for him because of the accusations hurled at him that makes him think the blame does lay at his feet because he wasn't able to save his best friend and the woman he cared about years ago. Will he ever discover if his family is proud of him? Will he be able to prove to his brother that he's more than just a playboy? Yet, what I liked most of all about the hero was his willingness and determination to help his brother because he's ready to make things right with his family and show them that's he ready to be a part of the family again instead of continuing to stay away.
Overall, Ms. Bissell has penned a wonderful read in this book that entertained me from start to finish because of the powerful chemistry between this couple and the ending that had me wondering whether Ramon would ever be able to forgive himself. However, in saying that, the way things turned out for the hero and heroine had me crying happy tears and I liked how Ramon made things right because he knows Emily is right. Ghosts need to be laid to rest, otherwise they'll haunt him forever. Yet, it was the epilogue that wrapped this story up perfectly, because of how right Ramon and Emily are for each other, which is proven by their love for each other. I would recommend A Night, A Consequence, A Vow by Angela Bissell, if you enjoy the enemy to lovers trope or books by authors Louise Fuller, Sharon Kendrick, Maya Blake and Julia James.
Book Info:

Publication: October 17th, 2017 | Harlequin Presents | Ruthless Billionaire Brothers #1
Bound by their shock baby
Emily Royce is at her wit's end. To save her family's prestigious gentleman's club, she needs to sell her father's shares to ruthless Ramon de la Vega. But Ramon's gaze pierces right through her, revealing her deepest desires! Unable to hide from their potent chemistry, Emily surrenders to one glorious night in Paris… When he discovers that their passion resulted in an unexpected pregnancy, Ramon won't leave Emily's side. Beneath her cool exterior is a vulnerable woman he feels compelled to protect. He'll make her his any way he can–even if that means tying her to him with his ring!