What I love so much about the A Piece of My Heart (Blessings, Georgia #4) by Sharon Sala is that each and every book is like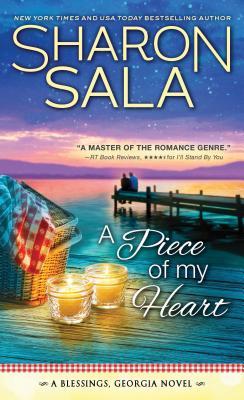 coming home. It give the reader the chance to sit down and visit with friends and neighbors from previous books. It will also take you on a emotional journey and leave you wanting more. This is the story of Mercy and Lon.
Mercy Dane grew up in foster care. She never had a real family and she has pretty much been on her own her entire life. When her apartment is broken into, a stranger gives her a helping hand and takes her in. That one night that they had together has been etched in their hearts since that day, but Mercy ran before the sun came up and her mystery man was never able to find her. Years later, she receives a call that will change her life. She is a blood donor and someone is in need of her very rare blood type. She is shocked to find that the sheriff of the small town of Blessings is none other than her mystery man. To top it off, the woman that she helped save with her donation, just may be the sister she never knew she had.
Lon Pittman never forgot the beautiful woman who turned his world on its side. He look everywhere for her, but never was able to find her, not knowing her name did not help matters, but when she appears in his tiny little home town, he will do whatever it takes to reconnect. To make sure that she does not drop off the face of the planet again.
When Mercy decides to move to Blessings to reconnect with her sister, it give her the opportunity to spend time with Lon and reconnect, rekindle their sparks. But the town busy bodies put Mercy down and make her feel like dirt. But when Lon needs help with a runaway case, and then help rescuing a bus full of kids in danger of being swept away in a rain storm, Mercy jumps right in and does what she can to help.
What I loved so much about Lon and Mercy is that they had a connection from the start. I felt so bad for the way that Mercy was treated, but her sister and new family stood up for her, Lon stood up for her, and she never had someone in her corner before. I love how patience Lon was with Mercy, letting her set the pace and never pushing her into something that she was not comfortable with.
I have loved this series from the first book and I look forward to more from Blessings, Georgia.
Book Info:

Publication: May 2nd 2017 | Sourcebooks Casablanca | Blessings, Georgia #4
She's never had a home
Growing up in a troubled foster home, Mercy Dane knew she could never rely on anyone but herself. She's used to giving her all to people who don't give her a second glance, so when she races to Blessings, Georgia, to save the life of an accident victim, she's flabbergasted when the grateful town opens its arms to her. She never dreamed she'd ever find family or friends–or a man who looks at her as if she hung the stars.
Until she finds peace in his arms
Police Chief Lon Pittman is getting restless living in sleepy little Blessings. But the day Mercy Dane roars into his life on the back of a motorcycle, practically daring him to pull her over, he's lost. There's something about Mercy's tough-yet-vulnerable spirit that calls to Lon, and he will do anything in his power to make her realize that home isn't just where the heart is–home is where their heart is.
Blessings, Georgia Series
You and Only You (Book 1)
I'll Stand By You (Book 2)
Saving Jake (Book 3)
A Piece of My Heart (Book 4)