In A Reason to Love (Snowberry Creek #3) by Alexis Morgan, Spencer is supposed to be dead, killed in action in Afghanistan. But Spencer is back in Snowberry Creek very much alive, angry and scarred. It does not help that when he returns he discovers one of his best friends is about to marry the girl he's always thought of as his. He's trying to decide what to do next, but his mind is going to have to start healing first.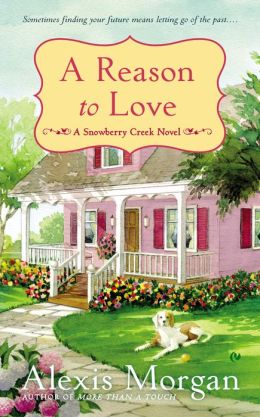 Melanie, who left Snowberry Creek in the dust years ago, is also back. She's trying to save the family business after the death of her father since her mother is not coping at all. Melanie has known Spencer since childhood, but the man she meets in the cemetery is a much different man than who she remembers. Having always had a crush on Spencer, Melanie was devastated by his 'death' and almost can't believe he's back.
Spencer has issues with everyone. He keeps them all at a distance. Everyone except for Melanie. Melanie is able to sneak through his defenses and get closer than he thought he'd ever be able to let anyone get again. Both of them have issues they're dealing with and both of them plan to leave Snowberry Creek again, but they become close quickly and their relationship blossoms into one that is more than friendship. They are good for each other, and Spencer is slowly letting people in again. Now that Melanie and Spencer have each other, can they accept that home really is where the heart is if only they can trust their hearts? Can they find a way to have a future with each other?
A Reason to Love is an emotionally charged journey not only about the romance of Spencer and Melanie, but about moving on from loss and tragedy. Alexis gives us two strong characters who really fit so well together. Melanie has a big heart, she is independent, and has a strong work ethic. I love how she is with Spencer. Without even trying she is exactly what he needs. She doesn't push or interfere, she is just there. Spencer will break your heart with his story. Alexis explores PTSD with Spencer and this was a very big part of A Reason To Love, it's a big part of what makes Spencer who he is today. Melanie accepts Spencer for who he is present and past. They are realistic characters, and the romance has that realistic feel to it, especially since Spencer and Melanie have known each other in the past. Alexis brings Spencer and Melanie to life with her vivid descriptions, the feelings they have. At times you really can feel the anger rolling off Spencer! There is significant character growth in A Reason to Love that flows easily throughout.
The secondary characters fit in well with A Reason to Love, adding dimension and another layer of angsty feelings. If you've read the other books in this series you will recognize them all. Alexis gives the reader a good feel for small towns in A Reason To Love, both the pros and the cons.
A Reason to Love is a story that's easy to immerse yourself in. Alexis doesn't give many details about what happened to Spencer, and I felt there were negatives and positives to this. Parts of Spencer's story and what brought him today were very unclear, such as why he hadn't been in contact with anyone who might have thought he was dead…Callie was supposed to be his best friend after all. I didn't understand this at all and it was a bit frustrating because I think knowing this detail would help us understand Spencer much better. I did think how Alexis worked around the mystery of what exactly had happened to Spencer was perfect. You don't need to know all the details, and the little bit of unknown here was ok.
A Reason to Love is smoothly written and easy to follow, and it is obvious a lot of feeling has been put in this story which makes it all the more enjoyable. Overall A Reason to Love is a story that will have you really hoping and feeling for the characters in it as you watch their relationship grow.
I'd recommend a Reason to Love to any romance reader looking for a story with a lot of depth and emotion with a hero an heroine who really belong together if only they can see that.
Book Info:

Published May 6th 2014 by Signet
All roads lead home in Snowberry Creek…
After a devastating tour in Afghanistan, all Spencer Lang wants is for life to return to normal. But when he rides into his hometown on his Harley, he learns that his friends and family have tried to move past their heartbreak since he was reported killed-in-action—and the woman he loved is about to marry his best friend. Now, all he can do is pick up the pieces of his life.
Years ago Melanie Wolfe left town, with no intention of ever coming back. But when her father dies, she reluctantly returns home to salvage the family business. Reuniting with Spencer, her high school crush, complicates the already thorny situation, especially when she begins losing her heart to him all over again.
As Spencer and Melanie work to restore order to her family's company, two damaged hearts face an unexpected new future that is filled with possibilities…and love.