A Reputation to Uphold by Victoria Parker: Following up her debut, The Princess in the Iron Mask  Victoria Parker has another HQ Presents winner!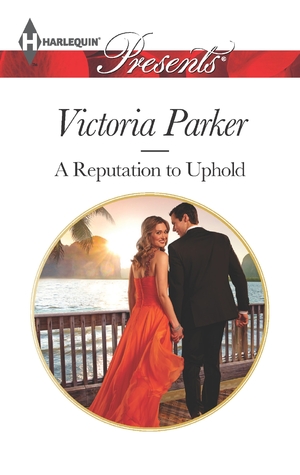 Eva St. George has started to make a name for herself as an exclusive fashion designer. It's not the first notoriety she's had however. She's been in the spotlight for years, showing her penchant for wild nights & wild boys. Of course, all is never what it seems…
Dante Vitale has known Finn and Eva St. George for many years. He and Finn are so close, that when Finn is stuck in Switzerland and unable to appear with his sister at a breast cancer fundraiser, he asks Dante to step in and bolster Eva's courage. He would do anything for Finn, but he almost declines – Eva and he had a disastrous close-call five years ago, and he's not sure he wants to tempt fate again.
That day five years ago, the day of her mother's funeral, Eva takes comfort from Dante. He takes her hand and makes her believe he's the man she's always thought him to be. Later, things get heated between them, but Dante withdraws. It's a stinging rejection to Eva, who wanted Dante to give her the one night she'd always dreamt of. But Dante knows that isn't the right time – and when he sees her in the arms of another man just minutes later, he feels betrayed.
Now, seeing each other after all that time, the spark is still there – stronger than ever. Dante has a failed marriage and she has demons of her own. Demons that she hasn't let anyone see. They both think that they could never be the person the other one needs – but life has other plans. A moment of weakness in private was made known through a live mic and Eva's father's sixth wife. Since Dante is supposedly engaged, this could spell disaster for his business deal and her high-profile wedding dress client, Princess Claudine Verbault.
Dante has a solution. He'll break off his (admittedly fake) engagement and they'll enter into their own public relationship. Problem solved. He gets the legitimacy of a fiancee and she'll be exonerated from being a man-stealer. Things never work out that way though, do they?
I loved that Eva had a backbone, even if she wasn't portrayed that way at the beginning of the book. A lot of their lives were a facade because of their pasts and lives in the spotlight. As they got closer, they both admitted to their attraction, and relied on each other when hard times hit.
Eva gives up a lot for Dante, although he (and we) don't know about it until after her promise to him is fulfilled. Dante finds out the truth behind Eva's supposed wild-child behaviour, and also the secrets she's hiding from him and her brother. They make their relationship real, and things happen that force Dante to assert himself. She stands up to him when she realizes why – and how – he's laid down the law because she wants and deserves more.
When Eva lays it out for him, she bares her soul – and it takes a while for her declaration to sink in. But Dante isn't a fool. He knows what he needs and what he's capable of giving. It just took her to allow him to see it.
Fantastic second HQ Presents from Victoria. Can't wait to read more from her!
Book Info:

Published August 20th 2013 by Harlequin Presents (Book 3176)
Out of the frying pan and into the fire… When designer Eva St. George, branded wild and shameless by the media, is caught with tycoon Dante Vitale, it's guaranteed to make the headlines. With a fledgling reputation to salvage, how can Eva refuse Dante's exit strategy?
Only, his solution is not to leave but to stay-together!
This ruthless Italian's sole focus is business, and if they can convince the world they're truly in love, they both just might get what they want. With enough heat between them to rival the Sahara, the fine line between business and pleasure is going up in flames.