A compassionate Lady and a sexy Prince unexpectedly find themselves in a marriage of convenience through a twist of fate in Kim Lawrence's A Ring to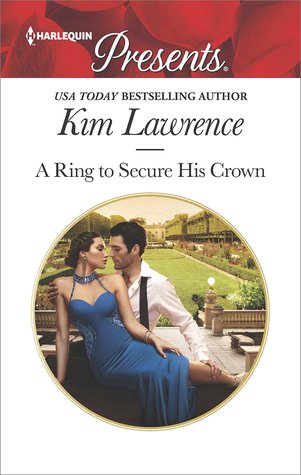 Secure His Crown. Lady Sabrina Summerville was raised to put her country first, and she's willing to accept a tepid political marriage to ensure its prosperity. She's engaged to Prince Luis, and their union will reunify the kingdom of Vela. She has accepted her fate but never paused to consider her own feelings or if she wants a marriage based on love, but she begins to question everything when she meets her betrothed's brother, Prince Sebastian.
Many believe Sebastian is a bastard, and he's adopted a hedonistic lifestyle ignoring his royal duties. He is known to be a playboy and appears to only care about himself. When he and Sabrina meet, the sparks fly as these two opposites find themselves intensely attracted to each other. Their unexpected feelings cause them to both reconsider what they truly want in life.
Sabrina is conflicted but resigned to marry Luis when he leaves her at the alter to elope with another woman. He abdicates the throne making Sebastian the Crown Prince, and, with mixed feelings, Sebastian steps in to marry Sabrina. There is no question that they desire each other, but they are virtual strangers and Sebastian never thought he'd wed. He's a fish out of water dealing with a wife and his new duties as heir to the throne, and these newlyweds struggle to figure things out.
Sebastian and Sabrina may begin their marriage on a shaky foundation, but they discover there is more than passion and duty between them. A Ring to Secure His Crown is a sweetly romantic story with sexy times that proves a marriage of convenience sometimes turns out to be a happy-ever-after.
Book Info:

Publication: 6/20/17 | Harlequin Presents |
Sabrina Summerville is content with her betrothal to the sensible Prince Luis–their match will reunify the kingdom of Vela. So why does she feel so drawn to Luis's darkly dangerous brother, Prince Sebastian?
Prince Sebastian has always pursued a decadent lifestyle, taking full advantage of being the scandalous second son! But when his brother abdicates and leaves the beautiful but betrayed Sabrina alone at the altar, he has no choice but to step up. Not only must he become a ruler, he must marry Sabrina himself! And if the sparks are anything to go by, their marriage is sure to be explosive…