In A Scandalous Deal (The Four Hundred #2) by Joanna Shupe, Becoming an architect is all Lady Eva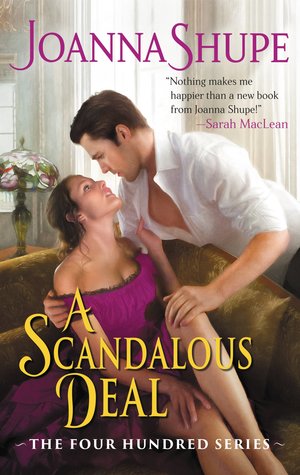 Hyde has ever wanted to do. She longs to follow in her father's footsteps and build grand hotels and buildings that will inspire awe. But being a woman in 1890 doesn't give Eva the amount of leeway she needs to build a career of her own. And with three failed engagements in her past, with all of the fiance's having died unfortunately, she's been dubbed Lady Unlucky by English society. Determined to keep her ailing father's name in good standing and to prove to everyone that she has what it takes to become an architect in her own right, Eva sails for America. Little does she know that the handsome man she meets on her trip is her new employer, Phillip Mansfield. Or that they will find themselves in an arrangement that, while deliciously sinful, has the ability to damage everything Eva has worked hard for.
"I'm beginning to fear the lengths to which I'll go for another night with you."
"I cannot… My future career–not to mention my reputation–could suffer for this."
"I won't let it, Eva. I swear, I'll protect you with everything I have–by any means fair or foul."
Phillip will admit he was upset when he couldn't again locate the beautiful woman he spent precious moments with on the ship heading back to America. So imagine his surprise when he finds out the liaison he'll be working with on his hotel project with architect E.M. Hyde is none other than his mystery woman. Phillip knows having her on site will cause countless headaches with his crew not used to a woman in an authority position. But he is impressed with her strength and her knowledge of the project. So he attempts to both keep Eva safe as well as allow her to oversee the build as she should. When it's clear that someone has their mind set on not only sabotaging the worksite but also takes direct aim at harming Eva, Phillip will do whatever it takes to protect her. Even if it means spending more and more time with the lovely Englishwoman. And falling for her, day by day.
"It's a bit decadent of me to lounge in a bath while you twiddle your thumbs, wouldn't you say?"
"Not if I am decadent with you."
"You mean…" Her brows creased. "Oh."
Ah, his little innocent. How he loved corrupting her.
A strong and brilliant heroine, a dashing and powerful hero, and a sensual arrangement–how great does that sound as a setup for a historical romance? A Scandalous Deal was an intense and absolutely intriguing look at life during the Gilded Age in America.
"You are a stubborn woman."
She spun to face him, the heel of her boot grinding into the soft dirt. "Why is it men call a woman stubborn when she disagrees with him? Are we not allowed to know our own minds?"
This is the first book I've read by Joanna Shupe, although she's been on my "must read" list for a while now. I really enjoyed her writing style and I will definitely be looking for more of her novels to devour very soon. I think the time period she wrote about was definitely a draw as well. So much was changing in the late 1800s, so many advancements in technology that were making life easier for most. But yet women still didn't have even half the independence a man was warranted. And that was the basis for our heroine Eva's struggle. Now I will say that I'm not huge on storylines in romances based on lies. But, in her case, I was much more okay with it than I expected to be. Probably because what bothers me even more than lying is chauvinism. Something Eva sadly faced on a daily basis.
I had a great time with both Eva and our hero Phillip. They were highly intelligent and had a lot of the same interests which made for wonderful dialogue between them. And they were both stubborn–which also meant there were some memorable arguments, I mean, conversations to enjoy. (lol) Phillip and Eva had their own issues they were trying to overcome: she was standing in for her ailing father in a man's world of business and construction; and he was trying to live his life without the influence of his mother and society raining down on him. Phillip was a bit grumbly and certainly distrustful of people after having been burned in the past by someone–so you kind of knew once he learned of Eva's deception that it would take some time for him to recover. And while I didn't necessarily feel like she grovelled quite enough in my eyes for lying to him for as long as she did, I think Phillip sensed how truly sorry Eva was and took that into account. I did adore the ending and how the problems they faced were resolved, plus getting a glimpse of their life together in the Epilogue was such fun.
If you love historical romances where the hero and heroine battle wills at every turn but still have terrific chemistry together, then I think A Scandalous Deal will be just the book for you. Definitely recommended.
Book Info:

Publication: Published April 24th 2018 | Avon | The Four Hundred #2
Joanna Shupe returns with another unforgettable novel set in the glittering world of New York City's Gilded Age…
They call her Lady Unlucky…
With three dead fiancés, Lady Eva Hyde has positively no luck when it comes to love. She sets sail for New York City, determined that nothing will deter her dream of becoming an architect, certainly not an unexpected passionate shipboard encounter with a mysterious stranger. But Eva's misfortune strikes once more when she discovers the stranger who swept her off her feet is none other than her new employer.
Or is it Lady Irresistible?
Phillip Mansfield reluctantly agrees to let the fiery Lady Eva oversee his luxury hotel project while vowing to keep their relationship strictly professional. Yet Eva is more capable—and more alluring—than Phillip first thought, and he cannot keep from drawing up a plan of his own to seduce her.
When a series of onsite "accidents" makes it clear someone wants Lady Unlucky to earn her nickname, Phillip discovers he's willing to do anything to protect her—even if it requires A SCANDALOUS DEAL.