A SEAL's Fantasy by Tawny Weber: Lara doesn't have any family, at least that's what she has told herself these past 8 years, after all she made her choice as her "loving" mother put it. She got herself through though even through all of the choices, some good and some bad, she has gotten to this point on her own. She is still dancing and is almost done with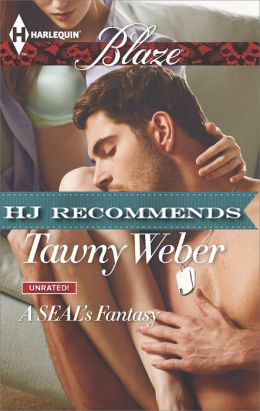 school, then on to a better life.
Dominic is the answers man, "Auntie", as his SEAL's team calls him. Those guys he loves like brothers, except one. "Sir" has always been uptight and is still a newbie and yet he outranks him. So when "Sir" is on a mission that goes bad and "Auntie" discovers there is a sister out there that needs protection, all he thinks it's going to be is a babysitting job.
How wrong can one man be? When you put Lara and Dominic in a room together you may just need to get out of the way because the inferno is more than anyone can handle, including them. It's worse because they don't want to like one another, at least not in the beginning. Can they both get over their insecurities? Can they both realize that in order to love the other they have to love the whole person, not just the rose colored glass of a person?
Ms. Weber has done it again in the 5th installment of her SEAL's series we are blown out of the water with a lady's man who has finally met his match. As always her characters leap of the page and into real life. While they are flawed, they are real and make you really want to reach out and help them.
A SEAL's Fantasy is part of a series but to be honest can be read as a standalone without any problems. Other than when you finish you will realize how steamy and real Ms. Weber writes and want to grab every other book she has written. While I could go on and on about the elegant flow of her prose or the fact that you might need a cup of ice to read some of her scenes I will merely state that you should grab a glass of wine and this novel and get ready for a good evening.
Book Info:

Published August 19th 2014 by Harlequin Blaze Series #811
Subject: Navy SEAL Lieutenant Dominic Castillo
Mission: Protect—not seduce!—his sexy target
Dominic Castillo loves his SEAL team like brothers—except one, who made sure Castillo was left behind during the latest mission. But when his rival is kidnapped by a vicious drug lord, Castillo receives a black ops mission of his own: protect his rival's sister. And any mistakes will either result in her death…or his.
Lara Banks clearly has no interest in being protected by a military man, especially an acquaintance of her estranged brother. So why is she doing her best to drive him crazy with pure temptation? Lara insists on having her naughty way with him—over and over—but is fulfilling their fantasies worth the price?