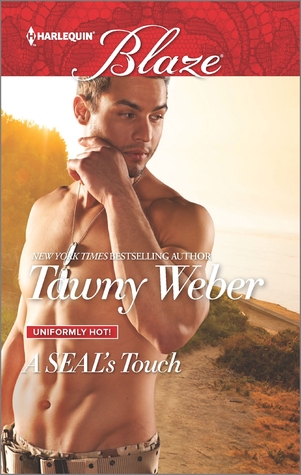 A SEAL's Touch by Tawny Weber: Can the boy next door really become the one? The real, true blue heart of your heart?
Catrina, Cat, Peres certainly had been believing in that statement for years. The problem was her boy next door never saw her as anything near womanly. Was it the fact that she had grown up a tomboy? Or perhaps that she was now a general contractor? Or even that she was his mother's best friends daughter? Cat really thought she would never know so she indulged in her fantasies dreaming of the man she lusted after.
Taylor, Mr. Wizard, Powell was a SEAL and given his moniker he always knew how to fix a problem. Well, there was one he had to get really creative with, his buddies ladies kept trying to fix him up and it's not that he didn't like sex but he wanted to pick the girl and not have the foreverness of the ones they picked out. His life was just to complicated.
When Taylor sees Cat at his mom's house he knows it's the perfect plan, after all they had been friends forever, certainly they could pull off a fake date for a little while, right? What he didn't expect though was that in one night his eyes were about to be opened and nothing would be the same again.
The SEAL's are back and hotter than ever! Ms. Weber has added a new novel to her series that can be read as a stand-alone or part of the series, if you like the hotness read the series! In this novel she exemplifies her ability to get into a characters head with her reader to help everyone understand the different battles people go through. This one though is amazing in the way she really gets into both leads. As the relationship develops you see where the new growth builds on the friendship of years and it's truly a beautiful thing. This is a great novel for lovers of friends to lovers, military romance and tomboy to princess.

Book Info:

Expected publication: January 19th 2016 | Harlequin Blaze | Uniformly Hot SEALs #10
Subject: Navy SEAL Taylor Powell
Mission: Find a sexy fake girlfriend…with even sexier benefits!
Lieutenant Taylor "The Wizard" Powell has a reputation for getting out of tricky situations. Bad guys, bombs, weapons—no problem. Finding a girlfriend in order to evade matchmaking friends? Not so easy. He's banking on contractor Cat Peres to help him out…not realizing his tomboy friend has a whole lot of sexy surprises hidden in her tool belt.
Cat can't remember a time when Taylor wasn't the object of her hottest dreams—so she can't help but agree to his plan. Their only rule? Friends, no matter what. Except the deliciously hot chemistry that ignites between them takes them both by surprise…and having nothing between them might just ruin everything.