A Shattered Moment (Fractured Lives #1) by Tiffany King: Mackenzie's life forever changed the day she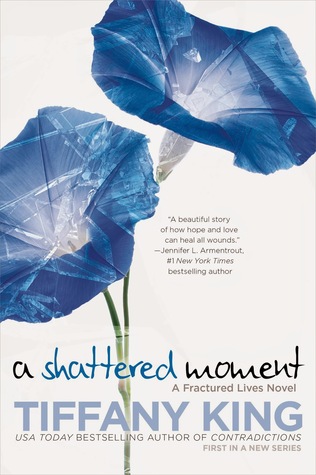 graduated from high school. On the day she was supposed to celebrate the end of an era with her five best friends, aka the "Brat Pack," she learns of a surprising betrayal and is in a horrifying accident. Over a year later and Mac is struggling to move on and live a relatively normal life.
In all the sessions during the past year with my therapist, Tanya, she had neglected to tell me how to deal with the firsts. Like the first time I picked up my phone without thinking about it to text Tracey or Jessica, and forgetting neither of them would be there to answer, or how I would feel two months after the accident when our graduation pictures arrived in the mail.
Mac is now in college and living in the dorms with a roommate. She prefers to keep to herself and has no friends. Her world consists of going to her classes, studying at the library, and going to appointments. One day in the library she comes face-to-face with Bentley, the EMT was responded to the accident. Both are surprised to see each other. The accident was Bentley's first call as an EMT and it stuck with him. Bentley is persistent; he sees something in Mac that draws him and he's willing to go slow and take his time if that means getting the girl.
"Oh, of course. What was I thinking?" He got down on one knee as three people spilled out from the side door of the dorm that faced the parking lot. He took my hand. "Mac, will you be my girlfriend?"
"Say yes, say yes," the trio shouted in unison as they laughed their way to their car.
"Get up, you fool." I laughed, slapping Bentley on the arm.
Mac is incredibly stubborn and Bentley is exactly what Mac needs in her life. They have great chemistry. He's the first person to really make an effort and his persistence starts to break her out of her shell. Mac starts to make more of an effort in terms of being social instead of isolating herself.
A Shattered Moment is a an emotional story about trying to put your life back together and learning to trust in others. Tiffany King seamlessly weaves in the present day life of Mac and Bentley along with flashbacks to Mac's graduation day and the accident. Ms. King paints a relatable story arc for Mac in terms of how she handles the aftermath of the accident and her everyday struggles. Fans of Cassia Leo will enjoy A Shattered Moment!
Book Info:

Publication: May 5th 2015 by Berkley Romance | (Fractured Lives #1)
In the new series by Tiffany King, the USA Today bestselling author of the Woodfalls Girls novels, six friends—fresh from high school graduation—discover that the future can come at you from out of nowhere.
This is Mackenzie's story…
Mackenzie Wilson once had hope for what life had to offer, but everything changed on the night of her graduation. A year later, the only way she can find comfort is by keeping her head down and hoping she remains unnoticed at college.
When Bentley James discovered Mac in that twisted SUV, he was just a newbie EMT on his first call. It was a gut-wrenching moment that made him realize not everyone can be saved—and sometimes they don't want to be.
A chance encounter on campus brings Bentley back into Mac's life. Despite her initial resistance, he sets out to discover the girl hiding beneath a shield of seclusion. He evokes painful memories in Mac—but also feelings. As the spark between them grows, Mac must decide if she can let go of the past and believe in something as fragile as love…