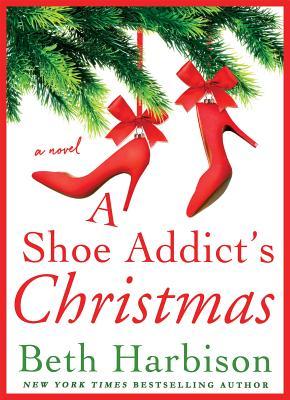 A Shoe Addict's Christmas by Beth Harbison is an amazing sweet Christmas Novella that will leaving you smiling. This is the story of Noelle and her surprising Christmas Guardian Angel.
Noelle lost her mother at a young age. After that, she has never liked the Christmas season. Always too afraid to step outside of her safe little bubble and really live life. When she is unexpectedly locked in over night, on Christmas Eve, in the department store where she works, she thinks that she is going to have a quiet night, but that all changes when her Guardian Angel crashes (literally) in the shoe department.
As they set the department back to rights, and try on some amazing shoes, Noelle relives some of the most memorable moments in her life, and how things could have been different if she would have made a different choice, gone a different direction.
This story showed me that we are all scared of something in one fashion or another, but what is really important is to not allow your fear to cause you to miss out on life, the possibilities of what could be around the next corner.
An amazing sweet Christmas Story that will lighten up anyone's mood.

Book Info:

 Expected publication: October 18th 2016 | St. Martin's Press |
From the author of the beloved bestseller Shoe Addicts Anonymous comes a heartwarming twist on a classic tale filled with holiday cheer.
Noelle is not a fan of the holidays and to make matters worse, she is at a crossroads in her life when it seems that love and adventure are no longer possible. When she stays late at her job in a department store on a snowy Christmas Eve she accidentally gets locked in after closing. She isn't too concerned about the prospect of spending the night in the store…until a woman appears out of nowhere and tells Noelle that she's her guardian angel. Soon Noelle finds herself camped out in the shoe department facing several "ghosts" of Christmases past, present, and future…Will visiting the holidays of yesterday and tomorrow help Noelle see the true spirit of Christmas? And will the love she has longed for all her life be the best surprise gift of all?