In A Spiced Apple Winter (Fairfield Orchard #2) by Emma Cane,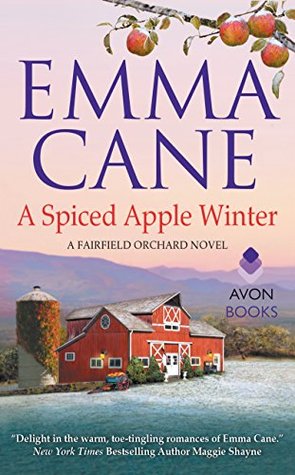 Tyler Fairfield is surprised to realize that he's enjoying his time away from acting to concentrate on his family's orchard for a few months. He and his twin sister Amy are back to their old selves and make a pretty great team. But it's his relationship with longtime friend Brianna MacDougall that has him in knots. Tyler doesn't regret the passionate night they had together months ago in NYC and instead wants to see if their chemistry is still just as strong. Knowing he's only back in Spencer Hollow for a short time, though, has him worried that it might only end up hurting them both in the long run.
This was love–it had to be love–this need to be with her, to want her happiness more than his own.
But he was going to break her heart when he left. It would probably break his own, too. Was an acting career–or his pride–worth that?'
Brianna still can't believe the night she spent in Tyler's arms was real or that she had the nerve to do something so reckless. And she's sad that their friendship now feels strained since he came back to town. She already has enough to deal with, running the family business, the local general store, and assisting her parents since her dad's Alzheimer's diagnosis. But Bri thinks she could handle a temporary fling with Tyler while he's here, a way for them to have fun and enjoy life while they can. Will it turn out to be too easy to fall completely for the hunky actor or can she keep things casual?
'They'd been so awkward together for months now that his invitation made her yearn for the easy playfulness and connection that had once made their friendship so special to her. Could they recapture that again, after everything that had happened in New York?'
A Spiced Apple Winter was a fun, heartfelt romance that focused on the complications of being stuck somewhere between friendship and love, and about how family issues combined with living in a small town can make everything more intense.
"I can't stop thinking about you," he whispered.
Her eyelids fluttered, and she wanted to lean against him.
His thumb slowly caressed her skin. "I know you said to forget what happened between us, but I can't."
The husky tension of his voice made her bones seem to melt. "You…you said you didn't remember."
"I lied."
Author Emma Cane creates some lovely communities for each series she offers us and I thought she did so well here describing the beauty that was Fairfield Orchard. And this being set in autumn as it morphed into winter, she made it extremely easy to picture the gorgeous changing of the colors across the Blue Ridge Mountains in Spencer Hollow, Virginia. That alone made it a perfect seasonal book. But it was even more interesting as it was paired with the bounty of the family apple orchard and the Fairfield siblings' new business venture with cider.
Tyler and Brianna ended up being a sweet couple who I could see as a realistic love match. I loved that they were both standup people who tried to do right by their family and friends, both rather selfless in their actions which was nice. Tyler was still a down-to-earth guy even though he was a pretty famous actor. His family certainly helped keep him grounded as well as working with his twin sister Amy at the orchard. It felt like their bond had gotten stronger since book one so it was nice to see that unity when they faced challenges. But it was Tyler's strong reactions to his friend Bri that made emotions run high and had me cheering him on to finally express what he felt.
Brianna was kind of the quintessential small town girl. She was in the process of taking over the family business while her father's health slowly deteriorated after his Alzheimer's diagnosis and she spent most of her free time with him and her mother, helping them with daily activities. Bri was a truly caring, wonderful woman who was spreading herself too thin by trying to be there for absolutely everyone in need. I really liked that Tyler saw that and didn't try to change her, but encouraged her to take a few minutes here and there for herself with a hike or a dinner with him or her friends. Cane was somehow able to show how they brought out the kindness in each other without scrimping on the passion and intensity in their romance. Not an easy feat but it worked out pretty well here.
This was a story that had all of the charm you automatically think of with small, rural towns. And adding in Brianna and Tyler's relationship as it evolved from friends to lovers made this a sweet, thoughtful romance that I think will leave readers with a smile on their face.
Book Info:

Publication: December 27th 2016 | Avon | Fairfield Orchard #2
Welcome back to Fairfield Orchard, where apples and romance are ripe for the picking…
Actor Tyler Fairfield is Spencer Hollow's only home-grown celebrity. To Brianna MacDougall, he's a friend who became a lover over the course of one wild night in New York City. They both agreed it was a mistake—so why can't Bri forget? Maybe because Tyler makes her feel like the only person in a crowded room. Or because his kisses melt her like warm caramel over ice cream. Tyler back in town means temptation 24/7. Bri has more than enough on her plate producing a holiday play and running her family business, but this new secret fling can't last (right?) so she intends to enjoy every minute of it…
Bri's like no woman Tyler's known—including Gabrielle, his former costar. Fairfield Orchard and Tyler himself are part of the plan to rehabilitate Gabrielle's image, but scorching encounters and tender moments with Bri make Tyler wish he hadn't signed on. He'd trust Bri with anything; she's his heart and his home. But proving it to her may bring more drama than either of them bargained for…