A Summer at Sea by Katie Fforde: Tired of the bureaucracy of her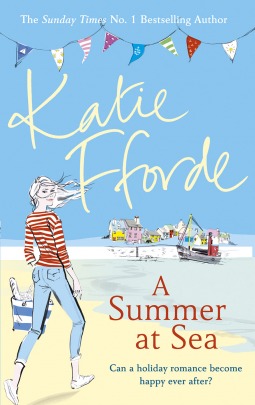 business as a midwife and the doctors who try to tell her what she's doing is dangerous, Emily takes a break for the summer and vacations as a cook on a puffer off the Scottish coast. But instead of finding calm and peace, she has a jealous kitchen assistant and her best friend, the owner of the puffer, is heavily pregnant. Plus, she finds Alisdair, the brother-in-law of her friend and the guy she can't stop thinking about.
But Alasdair has a young daughter and can't just start any relationship he wants. Plus, Emily will be going back home to England and a job she loves in just a few months. Even though she's finding it harder and harder to imagine herself leaving this new community.
But as things settle back home and her ward achieves new and bettering status, how can she even contemplate staying with her friend, the puffer, and Alasdair longer than necessary.
I found A Summer at Sea really hard to get into. The writing itself was just awkward and stilted, and I just couldn't like Emily. She felt too arrogant and untouchable. I definitely think she got more likable and the story smoother, but nothing much seemed to happen. I suppose I'm too used to American style media and this slower going story is hard for me to stay attached to.
For me, of course, the romance is what I focused on even as it's a women's fiction novel, and I thought Alisdair and his daughter were delightful. I loved him and the community Emily entered into, and I definitely do think Fforde showed great contrast between Emily's home and its opportunities and this new possibility.
The ending is definitely satisfying and the tension does amp up slightly towards the end, but it's most certainly not a wild ride. For those who love the slower women's fiction and a unique location of a puffer boat, I recommend A Summer at Sea.
Book Info:

Publication: February 11, 2016 | Century |
Emily is happy with her life just as it is.
She has a career as a midwife that she loves . She enjoys living on her own as a single woman. But she also feels it's time for a change and a spot of some sea air.
So when her best friend Rebecca asks whether she'd like to spend the summer cooking on a 'puffer' boat just off the Scottish coast, she jumps at the chance.
But she barely has time to get to grips with the galley before she finds herself with a lot on her plate.
Rebecca is heavily pregnant and is thrilled to have her friend on board doing most of the work. Then there's Emily's competitive and jealous kitchen assistant who thinks she should be head-cook, not Emily.
And there's Alasdair, the handsome local doctor who Emily is desperately trying not to notice.
Because if she falls in love with him, as he appears to be falling for her, will she ever want her old life back again?