A Texas Rescue Christmas by Caro Carson: Becky Cargill had been living under her mother's thumb for her entire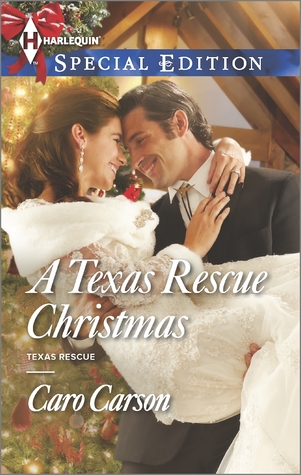 life. She hadn't been allowed to be or do anything, not so much as even picking out her own clothing. At twenty four though her mother was thinking she might be a nice Christmas present for her current beau. That was the straw, so Becky ran away to her former step sister's wedding where she hadn't even been invited. What would happen to her now and at Christmas time?
James Waterson III, aka Trey, had been running away for the past ten years. Running away from the career he almost had, from his past and from the truth. The truth was he was scared, he didn't want anyone to realize how much of a "dummy" he had become. He was supposed to play in the NFL, he got great grades then he didn't, he couldn't remember his family or his friends sometimes the worst part was he didn't know why. So when he wasn't able to get out of brother's wedding he was terrified. Not a good feeling when you are going home and at Christmas time.
When Becky shows up unannounced and then gets threatened by her mother she leaves everything and runs. So when there is a freak winter storm in Texas and Trey becomes her knight in shinning armor, or at least knight in shinning sleeping bag. With memory issues, really bad weather and people who should have never been parents hanging around this Christmas is bound to be something out of the ordinary.
Ms. Carson has a hit here with A Texas Rescue Christmas. The details are great and while both her leads are strong by themselves it is so refreshing to see a hero who yes while screwed up is so real and has his own issues that he has to work through. Truly the detail that goes into Trey's charater is just amazing. This is a Christmastime hit and will be a great read for anyone who needs a little bit of Christmas magic, a good ol' Texas cowboy and a princess who decides she wants to be real.
Book Info:

Published November 18th 2014 by Harlequin Special Edition Series #2376
Home for Christmas…
Trey Waterston has been on the outside looking in for so long, he nearly forgot where home is. But when he has to go back to the ranch that is his Texas birthright, he expects it to be as difficult to navigate as everything else in his life. He does not expect to find a halfhearted search afoot for a missing heiress. Beautiful and innocent Rebecca Cargill has disappeared, and nightfall–and a snowstorm–is coming. If they don't find her, she could die.
Not on my watch.
Instinctively, and directed only by a photograph, Trey knows he is the only one who can help her. Maybe he can finally claim his legacy. But why is he suddenly so sure Rebecca is a part of it?