In A Very Jaguar Christmas by Terry Spear, JAG agent Everett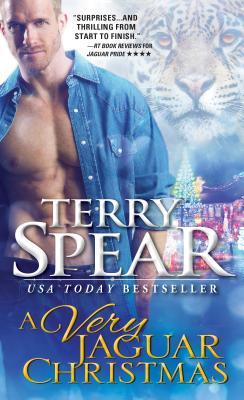 Anderson has always had a thing for Guardian agent Demetria MacFarlane. The only problem was she was with his best friend, Matt. When Matt's killed on a mission, Everett continues to keep his distance. Now, a year later, the pair are assigned to work together to find the parents of a wolf shifter cub who was dropped off at his mother's daycare by a human.
I enjoyed this story. Everett and Demetria work well together, both in a relationship and as working partners, doing everything they can to solve the mystery of who the wolf pup was and how to find his parents in order to get him home in time for Christmas. Jaguar shifters didn't know that wolf shifters existed and vise versa, so it was enjoyable to see how they reacted to one another and how they came together to help little Corey.
I would never have thought a wolf pup could get along with a big cat," Leidolf smiled a little.
"I think there's hope for all of us," Everett said. "If we can just set aside our differences and appreciate our similarities, I think most of us will welcome knowing there are more of us out there."
Corey, who spent a lot of time in his wolf form, was adorable, and I loved how quickly he bonded with Everett and the other jaguars. Despite the situation, they all did the best they could to make sure he felt safe and happy, including having a party for him.
This is book 4.5 in the series but it can be read as a standalone. I haven't read the other books in the series but had no problem following along with the characters and the storyline. I enjoyed this book though, so I'll probably go back and read the other four books to learn more about some of the other characters who made appearances in this one.
A Very Jaguar Christmas is a sweet story of two jaguars learning to move past the guilt of losing their mutual friend while helping a little pup find his way home. If you enjoy paranormal stories featuring shifters, you should consider giving this one a read.
Book Info:

 Published: October 4, 2016 | Sourcebooks Casablanca | Heart of the Jaguar #4.5
There are all kinds of surprises under the mistletoe!
As a protector of all jaguar-kind, Guardian agent Demetria MacFarlane isn't surprised to get a call near Christmas—but when she's sent to protect a cub whose species she didn't even know existed, her holiday season gets complicated. And it doesn't help that her partner is a distraction of the hottest kind.
Hotshot JAG agent Everett Anderson can handle dangerous poachers and wildlife traffickers, no problem…but kids? Everett fears he'll be stuck cub-sitting under the Christmas tree, but working with one sexy Guardian she-cat may be the best present he's ever gotten.