A Weaver Christmas Gift by Allison Leigh: Jane Cohen is an intelligent, young businesswoman. She has decided it's time for more than that though, she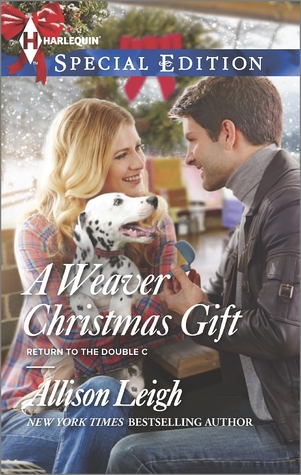 wants a family. Already married and divorced and now having been single for many years she wants to make the right choice. Perhaps it wasn't the right time to announce she wanted a baby, and oh wait a husband, right after having amazing sex with a "friend" though.
Casey Clay was smart, everyone knew that, he was friendly as well and overall a great guy. The thing is there were a lot of things about Casey that most people didn't know, including his "friend". This shouldn't have surprised her though since he wasn't really keen on anyone knowing about their "sexship".
After Jane's big announcement though Casey backed off. Unwillingly to fight for or even attempt to keep status quo. The problem, Weaver is a small town and when you both live there things aren't that easy to separate. So now that the die has been cast will Casey own up to his secrets? Will either of them admit to their feelings? Or will one of them walk away from Weaver?
Ms. Leigh takes us back to Weaver in this novel, which is part of a larger series but can be read as a stand-alone. Her characters are full of life and of heartache, which is painful for the reader because they are so real. It was almost like you could feel the pain and suffering that Casey goes through along the way, or see the steam rise when Jane or Casey would look at each other in just that certain way. While I'm not so certain that the title works well for the story itself, it certain is a Christmas gift to any reader.
Book Info:

Publication: October 21st 2014 by Harlequin Special Edition Series #2365
Help Wanted: Husband
Jane Cohen is in a quandary: she needs a man for her baby plan. Love and marriage are nonnegotiable—it's the traditional route or bust. So it's time to cut Casey Clay loose—her friend with benefits doesn't do commitment. But this impossible, irresistible man sets the bar awfully high for her husband hunt!
No matter how deep Casey's feelings run for the sexy bar owner, when it comes to kids, he can't give her what she wants. And his secrets don't stop there. But as the mistletoe goes up around Weaver, 'tis the season for their moment of truth…and their shot at true love