A White Wedding Christmas by Andrea Laurence: A wedding planner who doesn't believe in love and a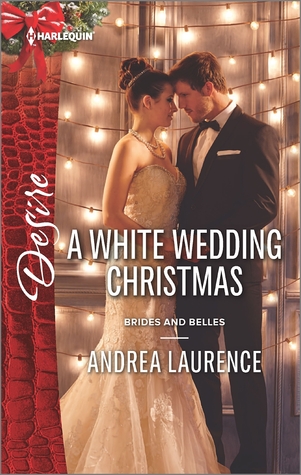 divorced man who does? What could be more twisted? Oh wait, throw in the Christmas holiday and old crushes and perhaps miracles really will happen.
Natalie Sharpe knew a long time ago that love wasn't for her. Flings and one night stands on the other hand those she could handle, just not really around the holidays as those were tough enough as it was. She was in fact looking forward to her holiday away, far away, far enough away to forget and not remember it was the holiday. However she couldn't resist when her best friend from girlhood called up to see if she would plan her winter wonderland wedding in less than a month.
Colin Russell had loved, it just hadn't been enough, so he was now divorced and determined that his baby sister would get everything he never had, including a wonderful winter wedding. The problem is she left all the details up to him and to her childhood best friend who he was beginning to realize had grown up well.
Forced to plan the wedding with her former crush on top of everything else was something Natalie wasn't sure she was up to, but she knew for her friend she needed to be strong and that she could do. However after planning this amazing wedding with this amazing guy could she ever go back to being a one-night stand kind of girl?
LOVED IT!!!!! Really that is all I feel I need to say about this one. Ms. Laurence has role reversed in the best possible way with these characters, not to mention finally given her readers more of an idea as to why Natalie is the way she is. Which leads me to… yes this is part of a series, but it can be read as a stand-alone. Though once you finish it you will want to read the whole series and soon. The descriptions you will read don't seem possible in such a short novel but help to create this world in your imagination that will help you watch this story play out just like a movie.
Be ready to cry, scream, and love to name a few, but go pick up A White Wedding Christmas by Andrea Laurence.
Book Info:
Publication: December 1st 2015 |Harlequin Desire

|
Reunited at a Christmas wedding
I do two words wedding planner Natalie Sharpe will never utter. The cynic in her doesn't believe in love but the woman in her believes in lust! When a last-minute Christmas wedding reunites her with the bride's hunky brother, Natalie's teenage crush and star of all her fantasies. Natalie wants a second chance for their first time
But Colin Russell isn't a teen anymore. He's all man. And his every touch has her thinking about the F word: forever. Working with him on the wedding is more temptation than she can take. Will one long, hot kiss lead this reluctant bride down her own wedding aisle?