A Wrong Bed Christmas is two novellas in one book. First is Ignited, by Kimberly Van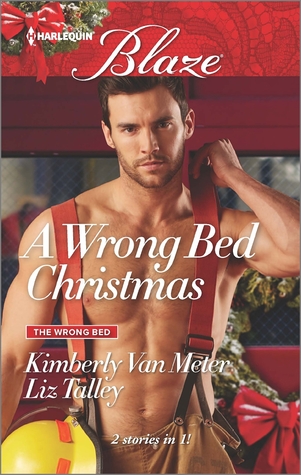 Meter. In Ignited, Alexis Matheson was supposed to take a trip with her best friend, Emma. Sidetracked by an incoming snowstorm, they decide to spend the night at Alexis's brother, Erik's, house, where Alexis had been staying. Erik, not realizing the women were there, invited his best friend, Layton, to stay in Alexis's room after they finished fighting a blaze.
Alexis gets a big surprise when Layton slips into bed with her. In her haste to get away from the stranger, she trips and sprains her ankle. Unable to travel with Emma, Layton volunteers to take care of Alexis while Erik goes with Emma.
Both Alexis and Layton had been hurt in the past, and both were weary of getting into a relationship again. They kept telling themselves that they were only going to be with one another until Erik and Emma returned, but as they spent time getting to know one another, they start to want more. They need to decide if being together is worth upsetting Erik.
Where There's Smoke by Liz Talley takes place simultaneously to Ignited. Emma wakes up to a naked Erik about to climb into his bed. Erik has always viewed Emma as a little sister, but seeing her all grown up has him looking at her in a whole new light. Emma, for her part, has always had a crush on Erik.
When Alexis is unable to make the trip to attend the awards ceremony for Emma's parents, Erik volunteers to go with her. He wanted to go not only because he didn't want her traveling by herself with the poor road conditions, but he wanted to spend time alone with her. When their car ends up in a ditch with no cell signal and no help in sight, they take refuge in an empty cabin. As the hours pass, they spend time getting to know each other both in and out of bed. Like Alexis and Layton, they need to decide if being together is worth upsetting Alexis.
The stories weren't bad, but I would have liked to have seen a little more character development. It seemed like the majority of the time was spent in the bedroom, which made their relationships both seem a little unrealistic at times.
My main issue was that there was no resolution between the two couples. Erik warns Layton off of Alexis during a phone conversation–which didn't work–but there's no follow-up. It's clear Erik suspects something's going on between his friend and his sister, but we don't get to see them meet up and discover how he really feels or see how he reacts when he realizes they're together. The same goes with Erik and Emma. Alexis knows Emma has always had a crush on Erik–even if she never admitted it to her– and she doesn't seemed pleased at the thought of them together. We don't get to see her reaction when she finds out they're together. Considering the way both stories connected with one another, it felt like a piece of the puzzle was missing.
A Wrong Bed Christmas is a quick, easy read. If you like sibling's best friend tropes, you may enjoy the novellas in this book.
Book Info:

Publication: October 20, 2015 | Harlequin Blaze |
The Wrong Bed—But the Right Guy!
Ignited by Kimberly Van Meter
What do you do when a sexy, naked fireman gets into your bed? If you're Alexis Matheson, you freak out. But now she's snowed in with Layton Davis, and suddenly Alexis's best intentions to behave seem to have disappeared up the chimney. Because a hot 'n' naughty firefighter in her bed might be the best Christmas surprise ever…
Where There's Smoke by Liz Talley
Emma Rose Brent is sure she's dreaming when Erik Matheson, her bestie's Überhot older brother—who she's been crushing on for years—mistakenly slips into her bed, all gloriously naked. But Emma must have been a very good girl this year, because she's been given the best gift of all: the chance to be really, really bad…