Abducted by the Prince by Olivia Drake has little bits of fairytales mixed together. There's a bit of Cinderella, some Rapunzel, and some "rags to riches" symbolism also. It makes for a familiar, although not uninteresting novel.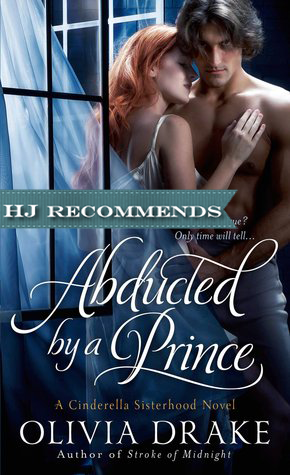 Damien Burke is a powerful man who owns Demon's Den, the most fashionable gambling destination in all of London. He has risen from poverty to immense wealth, although his past history as an orphan and charity student at Eton is never far from his mind. He is also very interested in revenge, and the book opens with him cornering Walt Stratham, Viscount Greaves, and insisting that he pay what he owes to Demon's Den. Walt does not have the huge amount of money he has lost, and does not want to ask his father, the Earl of Pennington, for a loan. However, Damien has expected this, and demands what he really wants: a golden key that Walt stole from him when they were at Eton together. He says that if Walt cannot bring him the key in a week that he will take revenge on Walt's lovely and innocent young sister Beatrice.
Lady Beatrice Stratham is indeed young, innocent, and about to make her debut. She is also spoiled and headstrong. Her older cousin, the impoverished Miss Eloise Stratham (called Ellie), is with her. Lady Beatrice impulsively decides to visit Lady Milford, a woman with a reputation as a matchmaker, in hopes that Lady Milford will help her secure an advantageous marriage. Lady Milford agrees to see them, but gives Eloise a pair of exquisite dancing shoes as a gift. As they leave Lady Milford's, Ellie notices a mysterious man watching Beatrice.
Ellie does not have an easy life. Her father was the Earl's younger brother, and he was a gambler and ne'er-do-well. He died with many debts, and her uncle the Earl is not a generous man. Ellie has basically been working as the unpaid governess to her two younger cousins for twelve years. However, Ellie has dreams. She dreams of a cottage in the country after her cousin Lady Beatrice gets married, the time to write and draw her pictures books, and perhaps one day get them published.
It looks like all of her dreams will be ruined when Damien Burke mistakenly kidnaps Ellie instead of Lady Beatrice, and spirits her away to a remote castle on an island off the Scottish coast. Damien was called the "Demon Prince" by his tormentors at Eton, and Ellie can see this in his dark, brooding appearance, and she draws him into her picture book as an evil rat prince. Although Damien is very upset about kidnapping the wrong girl, something about Ellie draws him:
Somehow, Ellie had stirred ice into the dead realm of his emotions. She made him crave warmth and light after years of darkness. The novelty of it had thrust him into uncharted territory. He didn't know quite what to make of it.
For Ellie, who never got a season, and assumed the only love she would find would be what she created in the pages of her storybook, being with Damien is a revelation, and kissing him even more so:
And not when he'd given her the most incredible kiss of her life. Her insides still quivered from the impact of it. Never had she dreamed that a kiss could be so earth-shattering."
Trapped together in the island castle by a bad storm, they get to know each other, despite the conflicts and anger they have between them. Making things even more difficult, especially when social ruin is threatened, is that both Ellie and Damien have sworn never to marry! How they proceed from here is the entire rest of the novel, with secrets, evil and neglectful relatives, and shocking revelations.
This is a nice book and an easy read. The most original part is that Ellie is a gifted storyteller and artist, but that and the "fairy godmother" symbolism is enough to keep it fresh and enjoyable. Damien is an interesting character, with more depth and backstory than expected for the usual "gambling rogue" and Ellie is good at the forthright and trod-upon-but-not-broken spinster. Background characters keep the story moving along, especially Damien's married servants, Mr. and Mrs. MacNab, who are the perfect foil to balance Damien's brooding personality. Abducted by the Prince is the third book of Olivia Drake's Cinderella Sisterhood book, but definitely stands alone, and is worth a read, especially by lovers of fairy tale influenced romance!
Book Info:

Published April 29th 2014 by St. Martin's Paperbacks
She's not waiting for her prince. He's not looking for a bride. But sometimes the most unlikely love stories end in "happily ever after"…
She Was Stolen Away…
Ellie Stratham gave up her childhood dreams of a fairy tale romance long ago. To repay her late father's debts, she's forced to serve her spoiled cousin, Lady Beatrice. But Ellie has devised a secret plan to escape her life as a drudge. A plan that is thrown into jeopardy when she's abducted by a mysterious stranger.
But Can He Steal Her Heart?
A notorious seducer of women—and a scoundrel to boot—Damien Burke has earned his nickname as the Demon Prince. But his plot to kidnap Lady Beatrice to make her brother return a priceless heirloom backfires—and he ends up with their penniless cousin, Ellie, as his hostage. By the time Damien realizes his mistake, he and his fiery-willed captive are trapped in a remote castle during a wild winter storm. And he soon finds that the true hostage may be his own heart.