In About That Night by Julie James, Billionaire heir Kyle met Rylann 9 years ago. He was immediately attracted to her and as he walked her home they planned a date for the next night. All those years ago Kyle stood Rylann up though…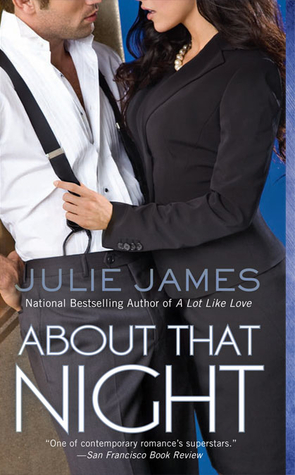 Now Rylann is an assistant US attorney new to Chicago. Imagine her surprise when one of her first cases brings her face to face with her past. Namely Kyle, now a convicted criminal…aka the "Twitter Terrorist". Kyle is brilliant, but one irrational action ended with him in jail. As they meet again, Kyle is getting released early thanks to his sister Jordan and a deal she had with the FBI. Rylann is even more surprised that she is just as attracted to Kyle now as she was then. But Rylann wants nothing to do with any kind of relationship with Kyle in light of her job and his record. Business comes first. To make matters even more complicated, Kyle is now one of her witnesses in a criminal investigation and he is definitely not fighting his attraction to Rylann. When Kyle is no longer involved in Rylann's case, he is suddenly still in her life. The chemistry is combustible, the connection is real. But can what starts out as a clandestine relationship survive the complications of her job and his past?
Julie James gives us a strong hero and heroine in About That Night who on the surface appear very different, but inside and with what counts are very compatible. Rylann is independent and very career driven. She wants to do what's right, and she will have to figure out what's right for her and if she can make it work. Kyle is responsible despite his twitter heist, and he is also very career driven. They both have goals, but they also both have needs and an undeniable attraction to each other. It was fun to watch them try to move forward with their relationship.
Julie gives us an entertaining romance in About That Night. The scenes are well written and there is just enough conflict between the characters to keep things interesting. I really enjoyed the maturity of Kyle and Rylann and the real feelings they evoke. There are secondary characters who you will recognize from the previous books in this series, but if you haven't read them first these characters blend in well and the story line is solid so that you don't feel like you are missing anything. Julie provides enough background to understand the circumstances in About That Night that might relate to previous books, making About That Night easily a stand alone book.
About That Night is a steamy, humor infused romance that is easy to fall into and feel part of that I would recommend to all romance readers.
Book Info:

Published April 3rd 2012 by Berkley Sensation
He's Playing Games
Though Rylann Pierce tried to fight the sparks she felt for billionaire heir Kyle Rhodes the night they met, their sizzling chemistry was undeniable. But after being stood up on their first date, Rylann never expected to see him again. So when she finds herself face-to-face with Kyle in a courthouse nine years later, she's stunned. More troubling to the beautiful assistant U.S. attorney is that she's still wildly attracted to him.
But She's Making The Rules
Just released from prison, Kyle Rhodes isn't thrilled to be the star witness in a high-profile criminal case—but when Rylann comes knocking at his door, he finds she may be the one lawyer he can't say no to. Still as gorgeous and sharp-tongued as ever, she lays down the law: she doesn't mix business with pleasure. But Kyle won't give up on something he wants—and what he wants is the one woman he's never forgotten.