All I Am: Drew's Story by Jodi Ellen Malpas invites readers back to the This Man series, with a heated novella, revolving around Drew. Don't despair,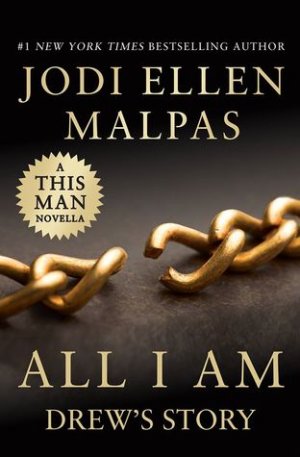 because Jesse makes an appearance and fans will rejoice at the glimpse they get of him and his family.
Drew Davies shines in this story, but it's not without struggle. Since Drew can't get his kicks at the manor anymore, he frequents Hux, a decadent club that caters to his needs. No emotional entanglements. He wants to give pleasure and take his own, and then that's where it ends. When Raya Rivers decides, she wants a cold, emotionless encounter, he's just the man to give it to her.
"Jesus Christ, this woman could be my downfall. Could make forget who I am. All I am."
What he didn't expect was to get tangled up and lose his heart to a woman not willing to stick around.
Raya Rivers has her own demons she needs to exercise and goes to Hux for a release. Nothing more, but a few hours of being able to forget. She has her reasons for wanting it like this, but so does Drew. But Drew is making her feel again and what started off as an arrangement, builds to something deeper. Soon, Raya is opening her soul to Drew, but can he do the same?
There is definite chemistry between Raya and Drew. Despite their age and how detached they want it, there is more happening between them, then either of them is willing to admit. Of course, when they realize that they want each other for more than some filthy sex, it's almost too late because Drew's been keeping a secret from Raya and when the secret comes to light, it might cost him something very special.
I enjoyed Drew and Raya as characters. Together, they both heat up the pages and watching Drew fall was just an added bonus. Well-written, sensual, and highly satisfying, All I Am is the perfect novella to satisfy my appetite.

Book Info:

Publication: June 18th 2017 | Forever | This Man #3.5
I thought I had control. I was so, so wrong . . .
I don't need a relationship.
I have Hux, a decadent club where I quench whatever raw desire I choose. I take pleasure and I give it—no strings attached. So when Raya Rivers comes in asking for someone cold, emotionless, and filthy . . . well, no man ever takes his wicked pleasure quite the way I do.
Only Raya is different. Vulnerable. And carrying some deep sorrow that gets past all my carefully constructed walls and inexplicably makes me care. Now craving controls me. Ice has given way to red-hot need.
But Raya has no idea about my other life—my real life. That I'm a daddy to an adorable little girl.
My two worlds are about to collide with the force of a supernova. And once Raya knows the truth, will she be able to accept all I am?