All In by Simona Ahrnstedt: David Hammar took over companies for a living, all in an attempt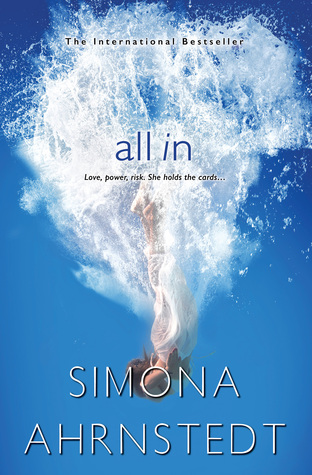 to reach his main prize: the dismantling of Investum and the destruction of the De la Grip family, particularly Gustaf and Peter, who had played a role in something terrible that had happened to him and his sister when they were younger. Determined to try to get one family member on his side, he arranges a lunch meeting with Natalia De la Grip.
Natalia has her own issues with her family; her father doesn't believe women should be leaders in the corporate world, one of her brothers cowers to their father's every demand, and the other is a drunken playboy. In order to prove her worth to her father, she's moved her way up the financial corporate ladder, and was working on a bank merger that would help Investum. She's confused when David asks her to lunch, not knowing why he would want to associate with a family that dislikes him and vise versa.
David can't bring himself to ask Natalia to help him, but he can't stay away from her either. As he falls deeper for her, he can't bring himself to stop his plans, either.
The fact that the De la Grip family would probably go under after the raid was a side effect the Michel accepted as necessary. For David that was the actual motivating factor, the reason he had worked single-mindedly toward this one goal.
Because the downfall of those two men would set him free.
And if a woman who stood at the sidelines was crushed in the process, then that was collateral he knew he was ruthless enough to accept.
When the takeover happens and Natalia discovers what happened to make David want vengeance and some shocking news that involves her, she has to decide where her loyalties lie. I was a little surprised about how she fell apart after the takeover, considering she had been so strong through most of the book.
For the most part I enjoyed the book, but I felt readers were left with unanswered questions. I would have liked to have known what happened to Peter after he finally stood against his father. Then there's the question of who Natalia's father really was, which wasn't resolved.
The Epilogue makes it sound like it's setting up a book for Natalia's brother, Alexander. While he wasn't in this book a whole lot, I found him to be an interesting character. There's clearly something going on with him, and I'm curious to learn what it is.
That was what she'd seen before, what she'd seen in Alexander's eyes.
People who'd been in hell and survived usually had that same look in their eyes.
I would recommend giving All In a read. It's about learning to move on from the past, learning to be happy, and realizing what is truly more important life than money and vengeance: family and love.
Book Info:

Publication: June 28, 2016 | Kensington |
In the cutthroat world of Sweden's financial elite, no one knows that better than corporate raider David Hammar. Ruthless. Notorious. Unstoppable. He's out to hijack the ultimate prize, Investum. After years of planning, all the players are in place; he needs just one member of the aristocratic owning family on his side–Natalia De la Grip.
Elegant, brilliant, driven to succeed in a man's world, Natalia is curious about David's unexpected invitation to lunch. Everyone knows that he is rich, dangerous, unethical; she soon discovers he is also deeply scarred.
The attraction between these two is impossible, but the long Swedish nights unfold an affair that will bring to light shocking secrets, forever alter a family, and force both Natalia and David to confront their innermost fears and desires.