In All or Nothing at All (Billionaire Builders #3) by Jennifer Probst, Tristan Pierce is once again living in his hometown of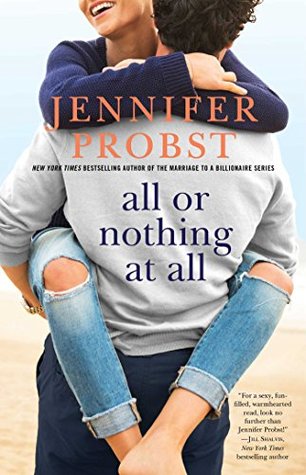 Harrington, New York, working with his brothers side by side in their construction business. He learned a lot and was quite successful in his years in New York City as a real estate hot shot but he always felt like he left a part of himself back home. Specifically the part that missed his former girlfriend Sydney Greene. Their steamy romance ended on a bad note, breaking Tristan's trust in her. And now working with her on a daily basis makes him crazy, wanting to bury the past but also knowing it's not smart to get involved again. But he soon gets tangled up in rekindling things with Sydney which works out in grand fashion…until she admits a secret she's been holding onto for several years. And Tristan isn't sure if there's a way to forgive her for keeping him in the dark for so long.
'Suddenly lust hit him, sending him to his knees with the urge to close the distance between them and kiss her, strip her, claim her. Because she'd always been his.'
Single mom to seven year old Becca and office guru at Pierce Construction, Sydney has her hands full keeping her life balanced. But she takes on a new huge project at work, hoping it will be a step up in her career. Unfortunately it puts her in direct daily contact with Tristan, the man she once loved more than life itself. She's never quite forgiven him for the way he walked out years ago so needless to say, things between them are snarky and tense. But somehow the passion still burns strong whenever they're together. And even though Sydney knows better, she caves to her feelings, letting Tristan close to her again. She's worried that when she finally tells him the reason she stayed in Harrington when he asked her to head to NYC with him that he'll cut her out of his life and turn cold toward her again. But Sydney knows they can never truly start over until they lay all their cards on the table.
"Did you always feel like I was a responsibility to you, Tristan?"
…His eyes glittered with a fierce golden light, raw with emotion. "You were never a responsibility to me. You were a fucking gift. Never forget that."
Jennifer Probst ends her Billionaire Builders series on a wonderful note with All or Nothing at All. But wow was it a looooooong road for our hero and heroine to get there. A second chance romance that had to overcome deception and longstanding hard feelings, this was definitely a memorable, standout story.
'Sydney dragged in a breath and set her shoulders for the biggest battle she ever waged.
The battle for his heart. She couldn't accept any less from him.
It was all or nothing at all.'
Jennifer Probst writes some of the most emotionally rich contemporary romances in my humble opinion. I love the sincerity of her characters, the dynamics in the relationships she creates, and how she wrings every bit of emotion from each scene. That was true a hundred times over with All or Nothing at All. Not only did this wrap up the Pierce brothers' trilogy with a good idea of how their futures will move forward, but this was a sweeping romance that just tore at my heart. It was at times gut-wrenching and other times uplifting. But through it all, I couldn't stop hoping that Tristan and Sydney would finally, *finally* get their act together and snag their HEA. (Have some faith in Probst when you read this book because it may not seem like they will ever work things out, but they eventually do!)
I'm not afraid to admit that I had a love/hate relationship with both Sydney and Tristan and their intense battle of wills. I so badly wanted them to let go of past hurt and to be able to move forward but I completely understood their hangups. Sydney had a very, very big lie of omission she'd been carrying around that I think will anger some readers. She had her reasons, although I don't know that I would have made the same choice. But Sydney was a smart, strong, likable woman aside from that. And she wasn't afraid to put Tristan in his place which was mostly funny, sometimes harsh. I did love her daughter Becca who was such a cutie pie and stole several scenes. She kind of softened some of the antagonistic behavior between Sydney and Tristan, while showing them unconditional love and trust as only a seven year old can.
Tristan is the one I think readers will probably have the most difficult time with. He seemed like a suave almost metrosexual guy in previous books and I had no idea that he was hiding a dominant, sexy alpha man side–which came out in spades when Sydney was around. I truly liked Tristan overall and was happy to see him back in good standing with his brothers Cal and Dalton and how that connection helped all three of them. But it was how he became selfish, controlling, and icy towards Sydney that bugged me. (And kept this from getting a higher rating.) I'll let you find out exactly what happens on your own. I just wished Tristan wouldn't have acted so rude and cold in how he handled things. He did redeem himself at the end with an uber romantic gesture that had me teary-eyed and sighing happily, though. And I won't say who gets married, after all there's three couples to choose from, but I have to mention that we got to enjoy not one, but two weddings by the time this came to a close!
All or Nothing at All was an epic romance that had me tangled up in knots. Complex characters. A relationship that was so right but never seemed to work out. Probst didn't pull any punches here. Oh, and make sure to have some tissues handy and maybe a cool drink, too, to get through the perfect blend of tender moments and wild, steamy love scenes.

Book Info:

Publication: Expected publication: July 25th 2017 | Gallery Books | Billionaire Builders #3
Tristan Pierce left the family business to carve out a life of his own, but never forgot his passionate affair with the much younger, inexperienced Sydney Green, or the hurtful break-up that tore him apart. When he's forced to return home and face his past, will he be able to carve out a future, or will lies ruin his second chance at love?
Sydney Green loved Tristan her entire life, but when he left, he took not only her heart, but her trust with him. Now that they're together again, it's time they both face the biggest secret of all….