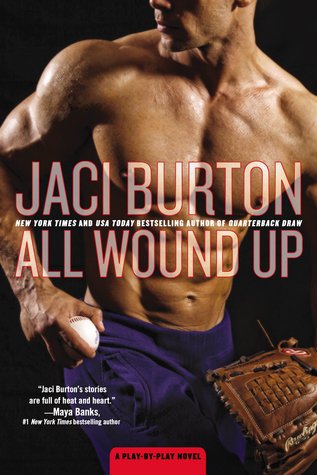 All Wound Up by Jaci Burton: Aubry is focused on her career as a doctor, much to the pleasure of her father and chagrin of her mother. Aubry first meets Tucker, the star pitcher of her father's baseball team, during a team party.
He looked her over. "I'll show you mine if you show me yours."
"I see you're starting to feel better. That's a very good sign. But no, I'm not showing you mine. I am going to look at yours, though. And in your weakened condition, I'm pretty sure I can get into your pants."
Tucker seems to be either clumsy or desperate to see her since he winds up in her ER more than once. Tucker makes it clear that he's attracted to her and would love to see her outside the hospital for once. Between their crazy chemistry and peer pressure from her friends at work, Aubry finally caves and goes out with him.
They click in more ways than one, but Aubry is determined to keep things casual and simple. Neither need the distraction of a relationship and they have really busy schedules. Tucker provides Aubry with some much needed stress life and some balance to her life. Before they know it, they've fallen into a relationship anyway and their feelings grow deeper.
"That's not what I mean, Aubry. Let me rephrase. I was so blinded by your intelligence and your beauty that no other woman could compare."
"Much better."
They started walking again.
"Plus, you have a great ass."
All Wound Up is a fun and sexy sports romance that kept me turning the pages until the very last page. All Wound Up can be read as a standalone book. Jaci Burton found a great balance between the banter, romance, baseball, and conflict. Ms. Burton provided some great characters in Tucker's family who I would love to see in future books! Fans of Jill Shalvis, Susan Mallery, and Rachel Gibson would love All Wound Up!

Book Info:

 August 4th 2015 | Berkley | Play-by-Play #10
In the latest Play-by-Play novel from the New York Times bestselling author of Quarterback Draw, a sexy baseball player is done striking out…
Tucker Cassidy is going through a slump—but not on the field. It's his dating life that's suffering. After having a painful altercation involving his ex-girlfriend's knee, Tucker is convinced it couldn't get worse…until a gorgeous doctor comes to the rescue at his most embarrassing moment.
As the daughter of the owner of the St. Louis Rivers, Dr. Aubry Ross has been around jocks all her life. She knows the ins and outs of all their games, and she isn't interested in playing.
When Tucker repeatedly lands in the hospital where she's working, Aubry starts to think he's getting injured just to see her. Tucker is both funny and sexy, and Aubry is pleasantly surprised to discover he actually respects her job.
When her father disapproves of their relationship, Aubry knows she'd rather lose Tucker than have him lose his job. But Tucker isn't about to let threats of a trade get in the way of a game-changing love…